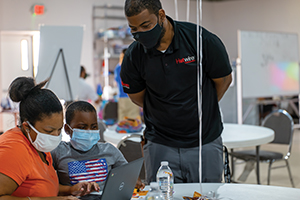 Hotwire Communications is taking a long-range approach to bridging broadband chasms.
As if it couldn't get more pressing, the digital divide barreled to the forefront during a year when remote work and schooling became the norm. For Hotwire, which provides fiber-to-the-home in states including North Carolina, South Carolina, Georgia, Florida and California, an already powerful resolve to create digital equity evolved even further.
In April 2020, the company established the Empowering Communities Foundation as a charitable arm to bridge the digital divide in underserved communities. Hotwire CEO Kristin Johnson serves as board chair.
In partnership with Truist Bank, which provided an initial investment of $1.5 million, and Dell, which provided thousands of Chromebooks, the work began with free internet installation, laptops and a community digital literacy program in three locations in Philadelphia, North Carolina and South Florida. As well as delivering families full broadband services, laptops and school supplies, the foundation created a Home Page program that serves as a hub for academic assets, "brain break" activities and parent resources.
"We picked places that were very much broadband deserts," says Jonathan Bullock, Hotwire EVP of corporate development & government. "We have a municipal fiber arrangement with the city of Salisbury, N.C., but there's a community adjacent to it that's a very low income, historically minority community—so we knew there was a need next door. In the Miami area, there are some migrant camps in Homestead, Florida, that are run by the housing authority that didn't have any internet at all."
The program is already a bona fide success, with more installations on the way. But Bullock emphasizes it is still early days on the long road to sustainable digital equity.
"We have a long way to go," he says, sharing a key company mantra: "Quit relying on technology that's not going to support the long-term economic development. You don't have economic development without broadband infrastructure. And make sure you're there for the long term. The job training, with community association support and local government support—those are really important to digital literacy and broadband. You can't just hook up a few megs of internet so a kid can get on a Zoom call. It needs to be more than that."
To that end, Hotwire recently hired an executive dedicated to helping identify prospects for job training and partnerships to bridge community economic development.
Also key to Hotwire's work are public-private partnerships. It currently has partnerships with the governments of Salisbury and Highlands, N.C., where there is a fiber pipeline to every home.
"It's a big piece of the future for us," he says. "A city can have a 20-year return on fiber deployment, and a private company can't sustain that. But a private company can operate on a network that's run by a city and that way they can join together."
Bullock says outreach from community organizations looking for various ways to partner continues to ratchet up, "whether it's actual funding for infrastructure, digital inclusion or digital literacy. Everyone wants to be a part of this," he notes.
Hotwire also continues to provide one-off internet installations that are making a difference in communities every day. It recently equipped Lotus House, one of the largest women's shelters in the Miami area, with free broadband. Last October, it partnered with the Marley Family Foundation to provide broadband access to the Cornerstone Learning Center in Trenchtown, Jamaica, where the entire community lives below the poverty line.
"We're out there working in one small town after the other," Bullock says. "It's not necessarily the big places. We are where there is need, all the time. It's huge work for us, and these are not one-off projects."