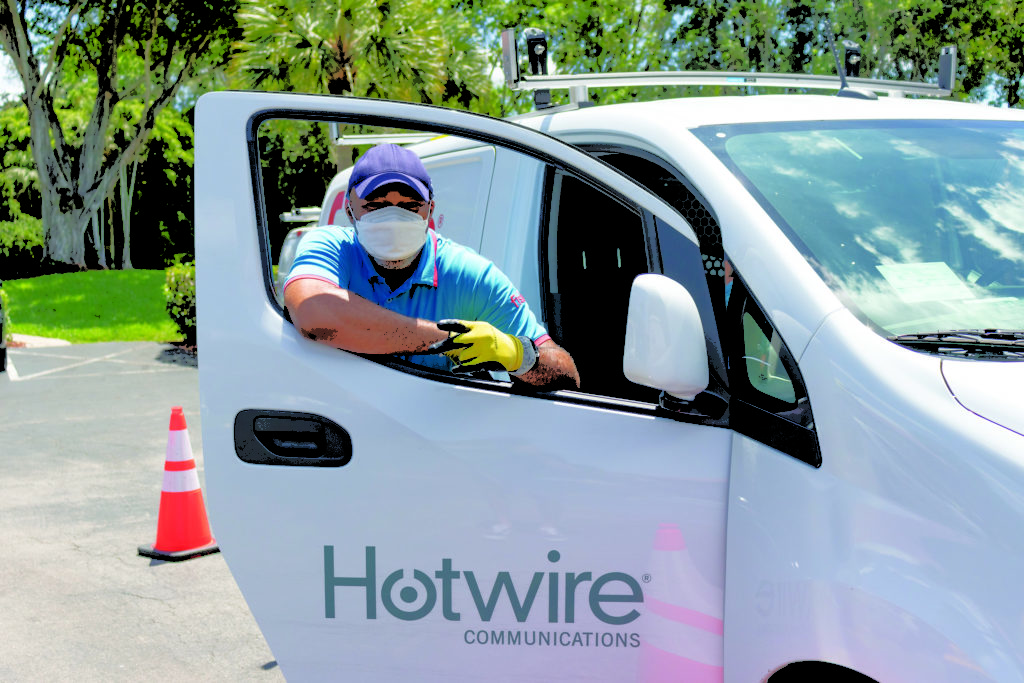 For years, Hotwire Communications was one of the best-kept secrets in broadband. It quietly built out fiber, struck new partnerships and ratcheted up speed. But the cat is now out of the bag, with the company consistently ranking Number 1 on Netflix's speed index, PC Mag touting it as one of the nation's fastest ISPs and incumbents waking up to some serious competition.
Hotwire, a CLEC and franchised cable operator, has a footprint that covers a wide swath of the North and Southeastern United States, including Pennsylvania, Florida, Georgia, North Carolina and New York.
"When we started Hotwire as a residential focused company, the one thing that was very important was to own the network. You control quality of service to customers, obviously. But we thought broadband would be the next utility at that time," explains co-founder and CEO Kristin Johnson. "We really started Hotwire with the mandate of future-proof infrastructure, and the best future-proof infrastructure for internet was fiber. We were one of the first internet companies to do all fiber back in 2002."
When Jonathan Bullock joined Hotwire in 2012 as part of its acquisition of FTTH provider Connexion, the company was still fighting for recognition. Not anymore thanks to consistent growth that has propelled it to Tier 2 status. "It's a good feeling not to have to introduce myself and explain who we are and where we are every time I go into a meeting anymore," says Bullock, now EVP, corporate development. As for that growth, Johnson says annual growth hasn't been less than 20% a year for the last 18 years. Hotwire's sub base is primarily a mix of HOA communities and MDUs, but it also has a rapidly growing commercial/wholesale business. And it's taken on unique partnerships, such as leasing the fiber network built by the town of Salisbury, N.C.
"From its earlier days serving primarily colleges and multiple-dwelling units, Hotwire was doing two things—planning for its successful future while learning to develop and deploy the best broadband network. And it shows today as Hotwire moves into more traditional franchise deployments, partnering with municipalities, and acquisition of other systems," says ACA Connects president and CEO Matthew Polka.
The Hotwire team has built up such a reputation that former Cablevision and Altice USA exec Mandy Esposito pursued joining the company. "I really loved the overall mission and the connection to the customer and the customer experience," says Esposito, who joined in 2018 as SVP, operations. "Every person at Hotwire, from the executive team down connects with customers. We speak with customers. We're in their homes… It aligned very closely to me with when Kristin Dolan took over Cablevision and how she had that same vision of really providing that local presence and amazing customer experience."
This isn't just lip service. When Esposito first took over operations, she spent about 45 minutes walking an elderly customer at a launch property through her services. "I still keep in touch with her from time-to-time because she's an elderly woman who lives alone, and I pass by her community every day on my way home, so I check in with her," she says. "I think all of that really goes into how when we're thinking of something new, how we display it and how we roll it out. We don't always do the same thing for everyone. We tailor it."
That experience includes IPTV, with Replay TV functionality, fast-channel change, voice remote and TV Everywhere capabilities. "One of the biggest innovations on our platform is the local community content we put on it," says Johnson. "When you launch your TV, your TV experience is actually personalized to your community. On your TV platform, you can see local news, announcements from your HOA board, meetings. We're really hyperlocal."
There's also the Fision app and Fision Direct product, which provides SMS. "It's not a text message to tell you that you have an appointment. It's as we're onboarding an entire property, welcoming each customer to the Hotwire family and taking them through the entire journey of them becoming a customer and getting their first bill," Esposito says.
The coming year will bring more innovation, including a cloud-based version of Hotwire's TV platform with a cloud DVR. Hotwire also will launch in two more communities in Florida—Tampa and Jacksonville. The pandemic helped to bring about an entirely new set of projects for the company, including around virtual self-service, such as self-service (scan a QR code and walk through set-up) and AI technical support. "These were always things on the technical roadmap, but COVID just made the urgency much more profound," explains Johnson. No one could really have fully prepared for the COVID-19 crisis, but Hotwire was helped by having a really strong business continuity plan given its footprint in hurricane magnet Florida. "We took it to the next level. We'd never had an experience where we had to bring the entire company remote, including customer service, in a matter of days," the CEO says.
Hotwire stands out from peers through a number of out-of-the-box partnerships, including the recent creation of an advertising interconnect with Cable Bahamas. "There's 44 million people in the Caribbean who aren't being advertised to in an efficient way. The Caribbean cable world technologically may have been a little bit behind the US, but there's a lot of spending power over there," Bullock says in explaining why Hotwire decided to jump in. "They spend $20 billion a year on imports from the US and tens of millions more in their visitors coming to the US for shopping, healthcare, vacation and entertainment."
Bullock credits Hotwire's nimbleness for allowing the team to find creative ways to expand the company's presence and utilize its infrastructure. He's been exploring the possibility of partnering with electric co-ops for the upcoming FCC Rural Digital Opportunity Fund auction that will dole out billions for broadband construction in unserved and underserved areas. "Co-ops, just like municipalities and Hotwire, are locally oriented. They're very deeply involved in their communities," he says. "They're in a situation where they are experiencing declining energy revenues, but they're experienced in infrastructure, they have access to capital and partnering with an experienced ISP makes a lot of sense for them."
Like many other broadband providers, Hotwire took the FCC's Keep Americans Connected pledge during the pandemic. But it didn't stop there. Philanthropy has always been core to the business, but the company took it to the next level this year and launched a foundation called Empowering Communities. "We were really lucky to be given a $1.5 million grant from one of our banking partners, Truist, to really build out this mission in a pretty big way," says Johnson. "We're going to be standing up private LTE networks in three low-income communities that are adjacent to Hotwire communities and providing free broadband to kids so they can connect to school in this new stay-at-home COVID environment." Dell is providing Chromebooks to help students stay connected for the upcoming school year.
"We're looking forward to doing more with that foundation and really take what we do best, which is provide broadband service sand connect those that can't afford to pay," says Johnson.
– Amy Maclean
Fast Facts
Hotwire Communications was founded in 2000 by CEO Kristin Johnson and husband Michael Karp, who serves as chairman.
In 2014, Hotwire was the first company to offer Gigabit Internet speeds to customers in Florida.
Hotwire helped raise more than $10,000 over three weeks, double its original goal, to help the Bahamas after it was hit by Hurricane Dorian last year.