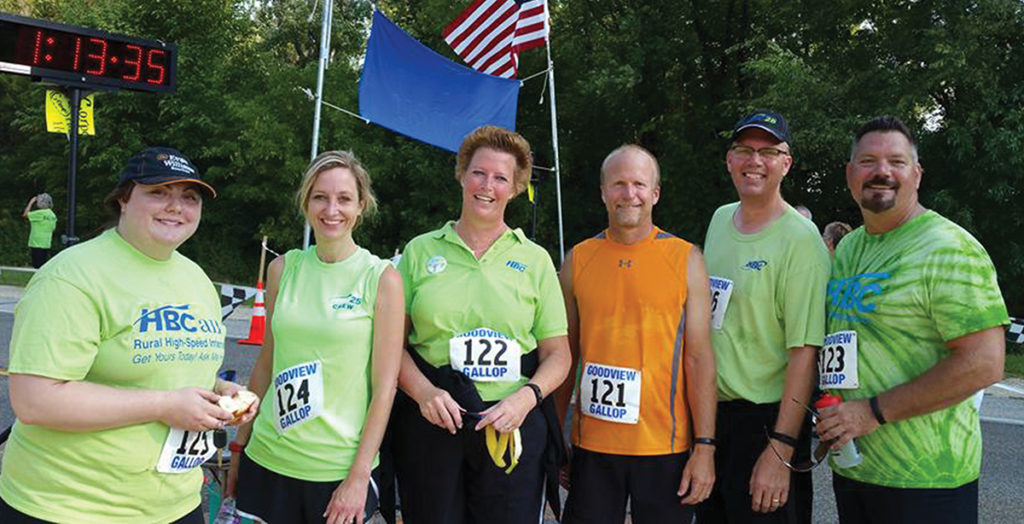 When it comes to community service, Winona-based Hiawatha Broadband Communications (HBC) doesn't just talk the talk, it walks the walk.
President and CEO Dan Pecarina believes that community service is integral to the culture of the company. HBC services more than 13,000 people in over 20 communities in southeast Minnesota, and in each town the telecommunications company tries to involve itself in different community doings. In particular, HBC employees spend a lot of time volunteering in schools, coaching youth sports (or high school sports as volunteers), and delivering meals to those confined to their homes.
"We do a lot out in the community, both as volunteer work with our workforce as well as donations to great causes that are going on in all of our communities," Pecarina says. "We try to give to good causes throughout the communities. Whether they're related to the arts, schools, churches, or just general community type services, we try to make a strong commitment to supporting every community we're in."
Pecarina believes that HBC differentiates itself from its competitors in that it is truly a part of the community it serves. "When we come in to a community, we hire people within the community. We open up a local office in the community and that's a differentiator for us along with the high level of customer care," Pecarina says. "Our fiber optic services are superior to some of the incumbents. We want to be in the community, hiring people in the community and participat[ing] in the community."
HBC first launched in Minnesota in 1997, and Pecarina has been with it since 1999. Having grown up in the state, he's intimately familiar with the rural area and the culture. "One of the best things we do as a company is delivering meals to shut-ins. They really brighten up and look forward to you coming, and we've got a great group of people in the company that go out and do that. It's great to see the welcoming that you get," Pecarina says.
The company has around 100 employees, and Pecarina estimates that about 70% participate in service initiatives in one form or another. HBC ensures employees have the time to give back.
"We provide employees with the time off during the day to do some of these things. It's not like they have to volunteer at night or make up those hours. If they volunteer for an hour or two during the day, that's part of their day," he explains.
HBC involvement takes many different forms. The telecom company sponsors artistic initiatives such as The Frozen River Film Festival and the Great River Shakespeare Festival. In 2018, HBC launched a "community WiFi" program in some of its service areas. It is free for HBC customers and available to the general public for a small fee, and creates greater access to WiFi in the rural areas. HBC also has an Internet Assistance Program, where qualified customers can get high-speed internet they need at reduced prices.
"We have a great group of employees. It's part of our culture to give back," Pecarina explains. "We're a successful company, so giving back is not only providing our people volunteer time, but we're also able to provide donations and give back to these communities."
– Mollie Cahillane
FAST FACTS
Schurz Communications acquired Winona, MN-based HBC in February 2018.
HBC has been building fiber-optic networks to homes and businesses across southern Minnesota since 1997.
HBC also runs local TV station HBC TV 25, which airs local sports, community parades and other local programming.