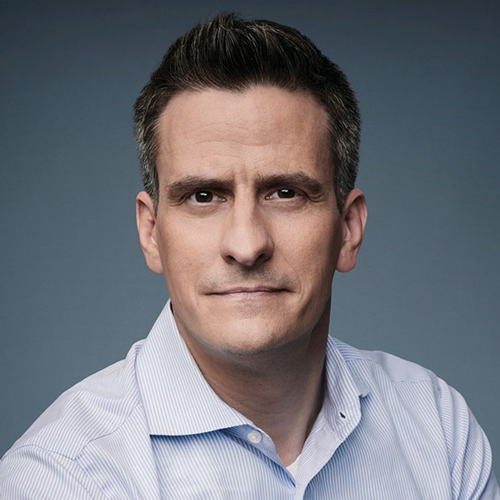 Years in Industry: 16
Education: Business Informatics in Mannheim, and Ph.D. from the RWTH Aachen University, both in Germany.
Between business, legal and operations at Discovery, this duo has their work cut out for them. While licensed private pilot Wiedenfels may have found himself grounded during the pandemic, he's been busy working on initiatives such as the Chip and Joanna Gaines joint venture and the launch of Food Network Kitchen. Sims, in addition to overseeing all of the company's legal teams, implemented the company's approach to GDPR and the legal and privacy support for the launch of Food Network Kitchen.
The COVID-19 pandemic forever changed my perspective on:
Nature. I've always loved the outdoors, but it's remarkable how closely I'm tracking spring and the changing of the seasons while working from home in Connecticut.
The first thing I'll do when I'm back in the office is:
Spend quality time with my team. While it's been a gift to be with my family more at home, I also look forward to in-person time with my incredible co-workers.
How has the pandemic shaped the industry's future?
Some of the priorities that have resurfaced in this pandemic are in sync with our core values at Discovery: family, cooking, and home, among others. That's resonating with viewers and I think there will be even more focus on that kind of content in the future. It will deepen our connection with our audiences.
What about travel used to annoy you but that now you actually miss?
I don't miss travel a lot and I greatly value the increased time with my family from traveling less. But as I reflect on my life, I'm grateful for my ability to be part of a global community and to be a "global citizen." It's a privilege to travel globally and work with people from very different cultural backgrounds – it's enriching and rewarding. I certainly hope we can soon get back to global travel being safe – so that our children can have the same fulfilling experiences.
Last content I streamed:
I've always been an avid streamer of our Food Network Kitchen app, even more so now that I am cooking with my family a lot. I've also been watching "Tiger King" and the third season of "Fauda."
Working from home has taught me:
That it works perfectly well! While I miss in-person interactions with my team, working from home can also be so much more efficient without commuting.
Biggest challenge facing advertising?
In many ways, there's great opportunity and flexibility for advertisers right now. Whether they are building campaigns for a mass audience or hoping to go hyper-targeted, there are a lot of great tools for marketers.
What product could you not live without?
I'm not using it much right now, but I'm looking forward to engaging more again with ForeFlight. I've been flying for 15 years and the app is an incredible electronic flight bag, replacing so many different devices and documents that you need as a pilot.