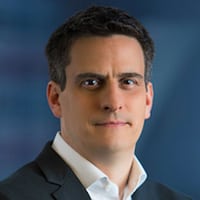 Years in Cable: 14, including my time at ProSieben.Sat1 and at McKinsey
Education: University of Mannheim; PhD, RWTH Aachen University
The legal acrobatics surrounding a deal the size of Discovery's Scripps acquisition would give many executives pause. Not so for Sims, who tackled the case load with smarts and passion, and now is employing her characteristic collaborative and communicative style to guide her team as they ensure a smooth integration. Wiedenfels combines extensive international experience—he formerly was CFO at ProSieben in Germany—and business smarts to guide Discovery's ongoing transformation as a global IP media company. He focuses on strategies that maximize the company's traditional linear business as well as new opportunities in digital, mobile and short-form.
What product or service could you not live without? Dashlane password manager app, which keeps all of my passwords close at hand. It is very convenient and provides a lot of peace of mind.
What's the first thing you read in the morning? I love reading the WSJ and NYT apps on my iPad to keep me up to speed on all the biggest news of the day.
Last show I binged not on my network(s): I've made it through every season to date of "Homeland" and am currently waiting desperately for each new episode to come out.
Favorite short-form content? I very much enjoy Group Nine's NowThisNews – short form content that's engaging and informative.
If you could have a superpower, what would it be and why? Never need to sleep? There are just not enough hours in every day.
An area where cable could use improvement? Better data integration and a new industry currency for total audience measurement.
Bitcoin – pro or con? Con. I very much believe in the concept of crypto currencies, but it will likely to take a long time to become mass market and it is unlikely that bitcoin will win in the end.