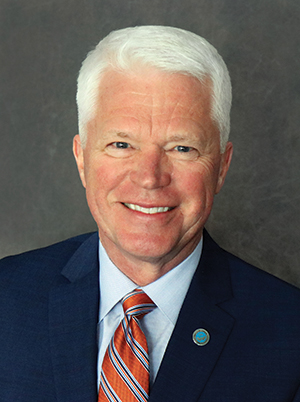 Whether at Eagle Communications or through various philanthropy work, Gary Shorman is a consummate leader.
If you thought Gary Shorman would slow his pace after stepping down as president and CEO of Eagle Communications following its purchase by GTCR and Mega Broadband in 2019, guess again. Even on a normal weekday in August when we sat down to talk to him, Shorman was getting ready to put on one of his many hats.
"It seems like summer is at an end and I have a fundraiser tonight that most people never have an opportunity to participate in—a duck derby where plastic ducks race around a water park area, and give away $10,000," Shorman says.
The event was to raise money for Big Brother Big Sister, just one of the many ways the jack-of-all-trades is dividing his time these days.
While his first love and his gateway into Eagle Communications was radio, the company shifted him toward cable early on. He took his position at Eagle as radio manager in 1985 and then moved into a leadership role after a few years that included oversight of the cable television side of its business. The Kansas-based media company still operates 28 radio stations in Kansas, Nebraska and Missouri, with Shorman serving as chief development officer and board chair.
He also serves on the board of Mega Broadband and is president of the Schmidt Foundation, which focuses on environmental efforts and education. He's still a part of the NCTC board and helped the co-op in its recent search for a new CEO. If all that's not enough, he hosts a radio show and podcast called "Forward Ever: Leading in Challenging Times," where he's interviewed a slate of Kansans, including former senator Roger Marshall and the director of the Eisenhower Presidential Library.
Shorman brings dedication, energy and enthusiasm with him everywhere in every role. It's driven him through his career at Eagle, which is employee-owned and operated and thrives on employees' passion for their work and their community.
"If a call comes in on Saturday, we have the 100-zero rule, whether or not you're at home with family or have something going on. You're 100% responsible for what you do and taking care of your line of business, with zero excuses. If something went wrong in the company, that is not an excuse. You just go on your way and get it fixed," he says.
Don't take that to mean Shorman is all work and no play. Anyone who has met or worked with the man will agree that it's his personality that makes him stand out among the industry greats.
"During his tenure on the NCTA Board of Directors, Gary was a tremendous contributor who always looked for solutions and was widely respected for bringing his own ideas to the table. My fondest memories of Gary, though, aren't about public policy discussions, but sitting around the dinner table and having great conversations about life, family and those things away from work that really matter. Those moments are when you can truly tell the character of a person and Gary is one of the best," says NCTA president and CEO Michael Powell.
Shorman's resourcefulness comes in handy at work and at play, as anyone who was on a bus full of NCTC members years ago can attest. The bus stopped for "adult refreshments," as Shorman phrased it, which the group had forgotten to retrieve before the trip. In addition, no one had a bottle opener, but he produced a pair of pliers to open everyone's bottles. "So I sort of became the hero of the bus," Shorman quips.
It's a humorous anecdote, but it's also a fitting example of a man who is never afraid to step up. "I've always believed that if you're in any group, you should be willing to lead," Shorman says.