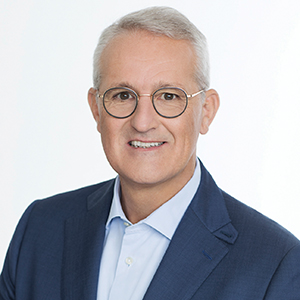 Years in Industry: 5
Education: BS, Masters, Florida International University
Before joining Dutch telecom operator KPN in 2015, van der Post spent several years in senior leadership positions for the airline and hospitality industries. That helped him hone his customer service expertise. He's only been on the job since October, but has wasted no time expanding the company. In January, Atlantic Broadband announced a deal to acquire Thames Valley Communications, adding some 10,000 customers to its operations in Connecticut.
The COVID-19 Pandemic forever changed my perspective on:
Work from home.
How has the pandemic shaped the industry's future?
Even after COVID-19 subsides, we will not return to a pre-pandemic mode of operating. The pandemic drove changed customer behavior and enabled us to implement immediate changes in the way we do business that have been very favorable for our company and most especially for our customers. Customers have adopted digitalization at an amazing pace, allowing us to offer more efficient ways of looking after our customers, with virtual and self-care options that are far more convenient for customers and which eliminate common pain points.
Number of subscriptions to streaming services:
2
Without sports on TV, I have…
just watched the news, and occasionally streamed.
What about travel used to annoy you but that now you actually miss?
I have traveled extensively in some of my previous roles and always enjoyed travelling. At BA I had the opportunity to address the things which really annoyed me and other customers, except for the lines at security….
Working from home has taught me…
That it is really important to have a dedicated space and discipline to split work and home. Also how important
great internet service is. Frozen images during important web meetings is only amusing the first couple of times. Also, I've had to remind myself and our colleagues to unplug, to tend to home and family needs, and to give ourselves some space away from the workload so that we can recharge. Leading a team remotely is a different thing and requires you to adapt and change your approach to keep everyone connected and engaged. I of course am lucky with the team I have.