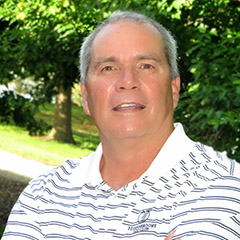 The face of NCTC is changing with longtime member services SVP Frank Hughes hanging up his coat in July. A lover of fun with a gift in negotiations, Hughes helped build the more than 750-member cooperative into what it is today.
He didn't spend his entire cable life with NCTC. Hughes kicked off his career as a regional manager for HBO in its Kansas City office in 1980. It was an exciting time to join with, among other things, the launch of Cinemax, HBO's answer to The Movie Channel. "In the '80s, it was all about getting distribution and carriage on cable systems," Hughes says, calling those days a great primer for the business as a whole.
The next decade offered Hughes a different side of the business when he joined United Video Cablevision as a general manager in the St. Louis area in 1990. It was a short-lived experience with the operator announcing a year-and-a-half later that it would be selling many of its systems, including the one managed by Hughes.
"That year-and-a-half with United Video was certainly a real deep dive into operations. The system was kind of a mess, we had to rebuild a lot of it," Hughes recalls. "It was a good test."
When he joined United Video, that wasn't the only offer Hughes had on the table. NCTC founding president Michael Pandzik had reached out to Hughes, offering him a position at the cooperative. With the announcement of the system sale and a bit of operations experience under his belt, Hughes gave Pandzik a call to see if he still had a place at the co-op. He did, and that's where Hughes has called home for nearly three decades.
Pandzik had been Hughes' boss before at HBO and had been trying to recruit him for some time. "Every time I'd see Frank at a cable show or event, I'd quietly ask him to come to work at the co-op. About a year later, he said 'yes'!," Pandzik says. "Frank Hughes is the best single affiliate-relations person I've ever worked with—at either HBO or the NCTC. He always treated the cable system owners like they were good friends. I always knew they were in great hands."
Hughes was among the first employees hired at NCTC, which was formed in the fall of 1984. "It was pretty hand-to-mouth, we didn't have a lot of members at the time. We didn't have a lot of programming deals," he says.
That's where Hughes came in. He went on the hunt for small- and mid-size cable companies that weren't members, negotiating deals to grow the cooperative's membership and general awareness. He had plenty to take on at the start, working hand-in-hand with Pandzik and Sen. Larry Pressler (R-SD) on the 1992 Cable Act with the goal being to give buying groups like NCTC a foot in the door at vertically-integrated programmers. "It was a real turning point in the evolution of the NCTC," Hughes says.
His success led to him leading programming negotiations for the NCTC starting in the mid '90s, pivoting him into the role he held until his retirement. Hughes' contributions to the industry haven't gone unnoticed. He was inducted as a Pathfinder of the Mid-America Cable Association in 2001 and into the Cable TV Pioneers in 2014.
"Frank has often been referred to by members as the 'Face of the Co-Op.' During his many years of service he always prioritized his focus on helping members, but combined it with a great sense of humor and wisdom," says NCTC President/CEO Rich Fickle. "Many look forward to retirement but I sense for Frank leaving the NCTC has been challenging as a result of his deep commitment and his genuine love of the people. Who knows? Maybe we can lure him back in from time to time to help with programming renewals at least when it is not fishing season!"
Hughes' last day at the office was July 3, cutting his stay at the NCTC short just shy of 27 years. "It's going to be bittersweet. I love coming here every day and seeing the passion that everybody has here for what we do. I still have it too," Hughes tells Cablefax just ahead of his final days. "It's going to be hard to walk out of here."
Taking a step back from his cable family hasn't been easy, but there's still plenty to look forward to back at home in his retirement, including time to be spent with his three children and seven grandchildren.
"My oldest grandchild is taking golf lessons and I'm ready to help her beat me in a game of golf," Hughes says. "It might not be that hard."
–Sara Winegardner
FAST FACTS
Outside of the office, Hughes enjoys golf, bass fishing and racquetball.
Hughes began his career as a regional manager with Home Box Office in its Kansas City office, overseeing distribution in 5 Midwestern states.
Hughes' tenure saw him serve under all three NCTC heads: Michael Pandzik, Jeff Abbas and current CEO Rich Fickle.