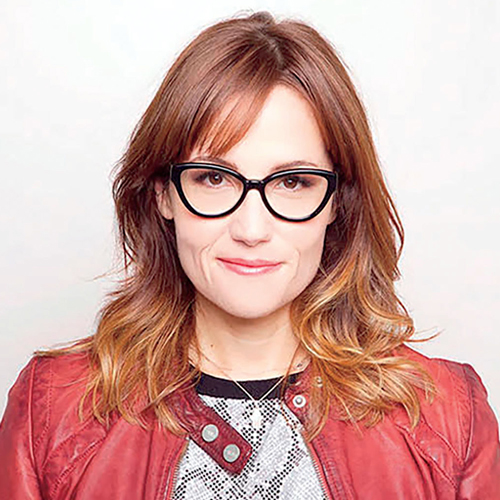 Years in Media & Broadband: Media: 20+; Broadband 4.5
Education: Middlebury College, Harvard Law School
My personal superpower is: Storytelling
My proudest professional achievement over the past 12 months is… Showing up every single day and doing my absolute best to support my team, my colleagues and our customers during such a challenging time. Even if I wasn't always perfect, and it wasn't always easy, I tried to accept everything as gracefully as I could and move forward positively.
What habit are you keeping post-pandemic? Home workouts. Love the convenience and time savings.
If you could host a Clubhouse chat with anyone, who would it be? The Founding Fathers—to ask how they think we are doing with this experiment called democracy and to ask why I'm the only woman in the room.
My comfort TV binge? "Ted Lasso" on Apple TV+ and "Call My Agent" aka "Dix Pour Cent" on Netflix.
How does the country narrow the digital divide? Government and the private sector must partner to ensure that all segments of society have access to the latest tools and technology. Verizon is committed to creating a digitally inclusive and equitable society, helping more people than ever stay connected and thrive in today's virtual learning environment. To learn more about Verizon's Digital Inclusion efforts, visit CitizenVerizon.com.
How has the pandemic forever changed programming? I don't think it changed programming as much as it accelerated trends which were already underway: SVODs/DTC, binge watching, the domination of streamers and premium original series, day-and-date distribution models, and the proliferation in online content platforms (Tik Tom, Twitch, Snap) and gaming of all kinds competing with video for consumers attention, for starters. Consumers want access to content when and where it works for them, and they are tired of paying for channels they don't watch, so they are voting with their time and their wallets.
How many times have you flown in the past year? Six times. And after four years, it finally made sense that I had kept a car in NYC. (call it my LA roots). Getting to nature from time to time saved me.
Favorite mask? The standard light blue disposable ones. Easy to use, and stash in purses, coat pockets, the car, etc. Easy come, easy go. I have enough else to keep track of 🙂
My prediction for the future of regional sports networks? Sports programming has unique characteristics that make it both the last brick in the linear programming wall, and yet, ideal to drive disruption. Why? Its outcome driven and thus has inherent value as live content, but it's also inherently tribal, and builds communities organically. It's emotional and builds trust and loyalty among its fans, and it's both local to a particular geography and (especially for some teams) global, as fans take team affiliations across the US and around the globe. In a digital model, the sports team, its players and its content becomes a platform that is fan-driven, community built and both local and global. There is a business model that both monetizes content and experiences and also empowers fans as a community, giving them access to goods and services that matter to them, as well as paid access to the games that are broadcast on a given RSN. I know what anyone who has read this far is thinking: that won't pencil out economically for most teams, not with the current values ascribed to this content in the current ecosystem. That's right. The model needs to change radically. And not every network will survive.
What show/movie hasn't been rebooted that you wish would be? Fantasy Island. We can all use some!
What sort of broadband will the average U.S. household need in five years? Having reliable connectivity at home and on the go is more important than ever. Whether it's Fios, 5G Home Internet or LTE Home Internet, we're committed to providing our customers with choices to enable multiple simultaneous uses with accessories and devices that will come to market and new XR experiences. The home office is here to stay, at least part of the time. And the living room can be a front row seat to sporting events, concerts and more.
How many TikTok dances have you learned? None. (That I'm admitting to) 😉
What's the future of direct-to-consumer streaming look like? As the number of DTC apps grows and we see increasing competition, we will see re-bundling and further consolidation. Content will need to be differentiated as YouTube and other free ad supported digital platforms rival unscripted cable programming (see food as a prime example). Personality driven programming (like Joe Rohan, Oprah) and premium series (Bridgerton, Ted Lasso, Mandolorian) will continue to dominate DTCs as programmers compete to acquire and retain subscribers. Churn will continue to be a challenge and we may see programmers seek to mitigate against churn by offering deeper discounts for long term subscriptions and we will see ongoing cracking down on password sharing and piracy.
What are you most looking forward to this summer? Seeing vaccinated people's smiles!
Last podcast listened to: The Prof G Show with Scott Galloway.