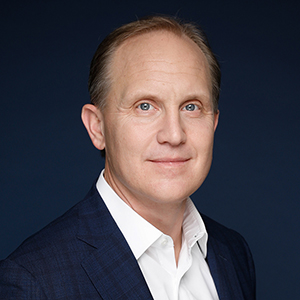 Hometown: Brazil, IN
Favorite Sports Team: Indiana Hoosiers
I want 30 seconds in an elevator with: Dr. Rick, self-help coach, from the Progressive Insurance commercials.
Where do you work most frequently—home, office, road? Office
Pickleball or tennis? Pickleball
How do you personally give back to your community? I've had the honor and privilege to work with the Boys and Girls Clubs of America for two decades. They do tremendous work in communities throughout the country. In addition, local journalism is a critical pillar to the success of our communities, and I work closely with and support the Ojai Valley News.
Streaming app I use the most: YouTube TV
My prediction for NFL Sunday Ticket on YouTube: It will be a big success.
Which website or app do you visit most when procrastinating? Twitter
Last TV series watched: "Fauda"
Podcast, radio or audiobook? Radio and audiobook
TV intro you won't skip? Fox Sports' "Big Noon Kickoff"