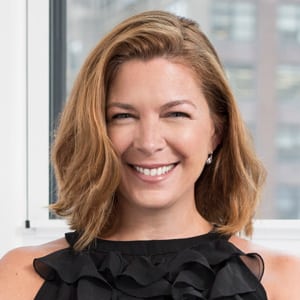 Since taking the reins of the A&E programming department, Bryant has reshaped the network's program strategy and realigned the programming team. Her priority this year is to continue building upon the programming strategy she has set out for A&E. Bryant also led the relaunch of the acclaimed "Biography" series, with episodes on Biggie Smalls, Tupac and David Koresh, among others. She advises a four-part plan for destressing: "Deep breaths. Sleep. Phone on mute. A little Chardonnay."
Who is your favorite current female TV character and why?
I am currently obsessed with Liza Miller from "Younger." Sutton Foster does an amazing job playing a vulnerable "older" woman who lies about her age to get a job. Seeing millennials lives through her eyes is brilliant.
What industry topic do you think will dominate industry headlines in 2018 and why?
OTT, streaming and how cable can win the war against them. We at A+E had a very successful story this year with "Live PD" – six hours a week of compelling live content that streaming, DVR or VOD can't offer.
What famous woman, living or deceased, would you like to have dinner with?
Candice Bergen. I loved "Murphy Brown" as a groundbreaking character and series. She was married to Louis Malle, one of the world's most talented filmmakers. That would be a fascinating meal!
Best advice for relieving stress?
Deep breaths. As much sleep as possible. Phone on mute. Little bit of Chardonnay.