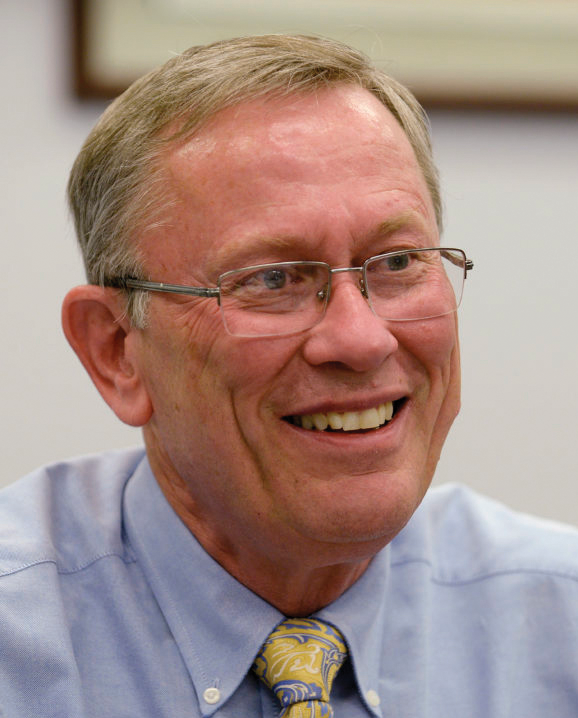 Earle MacKenzie may have retired from Shentel in 2018, but he hasn't slowed down much. The former COO has served as an adjunct accounting instructor at Lord Fairfax Community College for the past year and a half. While his former employer took the FCC's Keep Americans Connected Pledge during the COVID-19 pandemic to help keep families connected to online school, MacKenzie got to put broadband to the test as he was forced to take his three classes online.
"Accounting was not the easiest thing to try and teach online," he says. "But we got through it. Some of them did very well with virtual classes and some really struggled and needed that one-on-one in the classroom."
No doubt, he brought to remote learning the same sort of dedication and intensity that spanned his 45-year career in telecom—the last 15 of which were spent at Shenandoah Telecommunications Company (Shentel). In fact, change is a bit of a specialty for MacKenzie.
"Earle MacKenzie came to Shentel at a pivotal time in our company's history, and led its very successful transformation. We were looking for an agent of change, and Earle was the right person at the right time," says Shentel president and CEO Chris French. "With Earle's help, we identified a strategic opportunity to significantly grow our cable television business. He spearheaded the effort to identify and acquire cable properties; and most importantly, led the effort to upgrade and modernize the acquired systems."
That's especially noteworthy when you consider MacKenzie spent most of his career in wireless. "What was exciting to me when I came to Shentel was there was just so much opportunity. They had some great assets and great people. It was just an opportunity to leverage that. One of the biggest assets the company had was thousands of miles of fiber that they had been putting in since the early '80s," MacKenzie recalls. "We were able to utilize it to grow our wireless business. But equally important, and maybe even more important, we were able to utilize it to really make a difference in the cable industry."
Shentel had dabbled in cable since the 1980s, but it was primarily a one-way system. Under MacKenzie's leadership, the company conducted a strategic review around 2007 and determined the future was broadband.
"Earle was quick to recognize the growing importance of high-speed data, and our early emphasis on supporting that service laid the foundation for the current robust DOCSIS 3.1 network deployed throughout our cable communities," French says.
The work made business sense, but it also had a feel-good component. "What was especially gratifying to me was to go into some of these small towns in Virginia and West Virginia and maybe the only thing they ever had was dial-up and all of the sudden we were offering initially 10 and 15 Mbps, and eventually able to grow it to 50 and 100 Mbps and beyond," MacKenzie recalls. "It really changed these communities."
Before joining Shentel, MacKenzie started four companies. Making the switch from entrepreneur to being part of a publicly traded company can be tough, but for MacKenzie it was a perfect fit. "I found being at Shentel very stimulating because the board really had an entrepreneurial spirit. While I was there, we started a lot of businesses," he says. "We took risks… We took the cash from the regulated phone company business and expanded wireless, got into the cable business, built our fiber plant. I described Shentel in many cases as a 100-year-old start-up."
In retirement, MacKenzie has not only taught accounting, but found the time to flip a few houses, renovate a lake house and play host to his grandkids for the summer. His wife says that it seems like he's busier now than before he retired.
"I'm not busier. It's just different," he says. "The biggest difference is if I am working on something and I want to do something else, I can just put it down… I have time to smell the roses."
– Amy Maclean
Fast Facts
MacKenzie graduated from William and Mary in 1974. His first job was as a CPA with Arthur Andersen.
When MacKenzie joined Shentel in 2003, it was providing cable service to fewer than 8,700 customers. When he announced his retirement in 2017, Shentel's cable and high-speed customers totaled nearly 78,000.