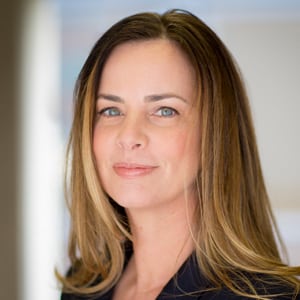 Callahan achieved what some thought unthinkable: She took nascent Boingo Broadband international, competing directly with Japan's established broadband provider, Mediatti. Callahan and her team have grown the company's broadband subscriber base exponentially by generating buzzy word-of-mouth through 80-plus marketing events per year. A key piece to Boingo's success comes from tailoring high-speed WiFi and IPTV products to meet the needs of on-base military personnel. What woman would Callahan like to have dinner with? "Notorious RBG: Ruth Bader Ginsberg," she says, adding, "She's 84 years old and can do more pushups than me."
Who is your favorite female TV character and why?
When I need a respite from the relentless 24-hour news cycle, I tune into the "Great British Bake Off." It's like televised Lexapro, with flour, sugar, and butter as the active ingredients. And while I love Paul, Mel and Sue, the undeniable star of the show is 80-something judge Mary Berry. In a medium where being over 40 is enough to get you sent packing, octogenarian Mary Berry is the best thing about the top show in the UK. She's the British grandmother you always wish you had – a subject matter expert with over 70 cookbooks to her credit who holds you to an exacting standard but is there to encourage you when you miss the mark (see: soggy bottoms). Mary Berry is the immutable truth that achievement and gentleness can soothe an anxious world.
What is one way the industry can continue to evolve in ridding itself of gender discrimination?
We can't change the story until we rewrite the story. For nearly 60 years, gender inequality on screen has remained largely unchanged and unchecked. Gender stereotyping is an inherent problem in today's entertainment landscape, and kids are the most vulnerable recipients of depictions that send the message that girls are less valuable and capable than boys. From 2006 to 2009 not one female character was depicted in G-rated family films in the field of medical science, as a business leader, in the law, or in politics. On screen—in an instant… in the time it takes to create a television show or make a movie, we can change what the future looks like. We don't have to wait for society to turn things around – we can create the future through what people see. As women in positions of influence and power in the media, it is incumbent on us to demand stories that depict women and girls with agency and intelligence. It's up us to hire women to write stories that challenge stereotypes. And it's up to us to employ women behind the camera to tell these stories.
What famous woman, living or deceased, would you like to have dinner with?
Notorious RBG: Ruth Bader Ginsberg. Trailblazing legal career. A radical progressive who considered Justice Scalia a true friend. A feminist who cannily advocated for men's equality. Intelligent, witty, and the heartbeat of the Supreme Court at a time when the court needs to be, more than ever, the bedrock of our democracy. She's 84 years old and can do more pushups than me.