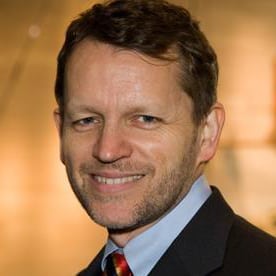 Years in Industry: 20+
Education: University of North Carolina at Chapel Hill; University of Minnesota
Motto I Live By: For myself, I am an optimist, it does not seem to be much use being anything else.
During the last year, Royle added to his busy list of duties the task of expanding the Smithsonian Channel's international distribution. He's achieved that goal by acquiring and/or co-producing programs that have worldwide appeal such as "The Coronation," which presented an interview with Queen Elizabeth and provided a rare look at the Crown Jewels. The program scored the network's highest ratings ever. Also, a Smithsonian documentary on the Hindenburg led to Emmy gold.
What item in your home or office most "sparks joy" in you? The refrigerator…
Celebrity would you like to see on "The Masked Singer" and what would their costume be? My niece, Izzie Pick Ibarra, should be answering this question… she produces the show.
A skinny bundle can't survive without…. Smithsonian Channel (What did you expect me to say? But, of course, it's true. )
Last show binged not on your networks: "Billions"
Favorite board/card game: Risk. We have global ambitions.