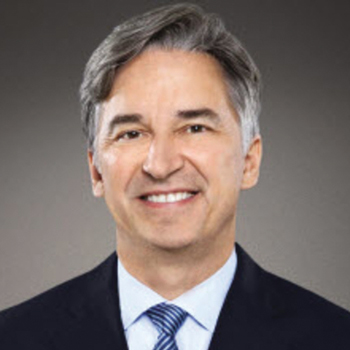 Years in Industry: 30+
Education: Undergraduate and graduate degrees (telecommunications, media management, and business) from Michigan State University
York oversees all AT&T video content and programming across platforms. That includes everything from the networks the platforms launch as well as managing AT&T's RSNs and the Audience Network. It also puts him front and center in the NFL Sunday Ticket scrimmage, with DirecTV's rights to the package set to expire after the upcoming season. He has a reputation for playing hard ball—see NFL Network's disappearance from AT&T U-verse and DirecTV Now. We're watching closely to see what play he calls.
What item in your home or office most "sparks joy" in you? Lower prices
Last show binged not on your networks? "The Marvelous Mrs. Maisel"
Last linear content you watched live? Can't recall. Even sports are viewed slightly delayed and time-compressed via DVR.
Who would you cast to play yourself in the story of your life? Jason Momoa
Favorite board/card game: Currently Cards Against Humanity.