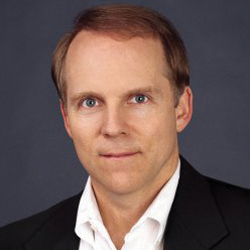 Years in Cable: 22
Education: MA, Journalism, Radio, Television and Film, University of Georgia; BA, English, Pfeiffer College; also completed a graduate study program at Edinburgh University in Scotland.
Each of these executives has found novel ways to expand the company's revenue stream by creating new monetization oppor­tunities. Breland has focused on maximiz­ing the earning potential of Turner's vast portfolio via linear and digital platforms. He brought TV Everywhere into more than over 86 million homes nationwide and oversaw the expansion of Turner's apps onto more platforms, including TCM on Amazon Fire TV and CNN Go on Roku devices. Daniels' efforts in the area of premium sports content, brands, and events resulted in a landmark deal with WME | IMG to create ELEAGUE, a professional eSports league set to debut in Summer 2016. And Speciale's outside-the-box thinking has revolution­ized the way Turner networks approach ad sales—from introducing new ad tools to halving ad loads for original primetime shows (starting with truTV and extending to TNT)—effectively creating an entirely new ad sales structure.
Virtual reality… has the ability to open up the sports experience unlike anything we've seen and hopefully find its way into schools. Will take several incarnations but it should get there.
Best show I watch not on my networks: Still "The Walking Dead" (and I'm still hoping for a cameo).
What was your first job? Out of college, Southern Satellite Systems, which was located 20 miles outside of Atlanta surrounded by farmland and cows—selling data transmission space in the vertical blanking interval of WTBS. Good luck finding anyone who remembers the vertical blanking interval. Fun job actually.
What was the last costume that you wore and why? Scooby-Doo at Halloween festival. Felt like a god as I was mobbed by kids.
Favorite charity I work with: Covenant House of Georgia. Once you see how life is for homeless kids, you'll never talk about having a bad day.