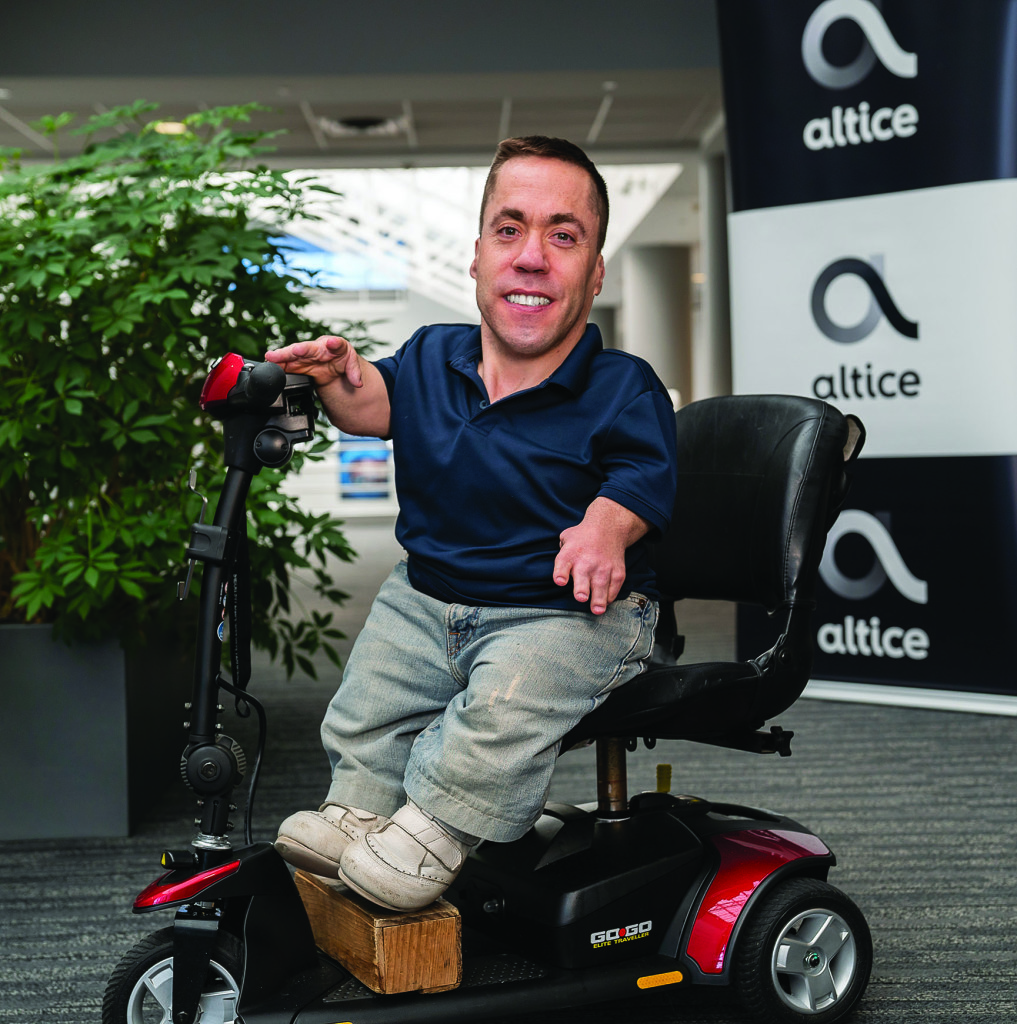 Wall Street's loss is cable's gain. Altice USA revenue planning & analysis manager Clinton Brown went to school for finance and banking and wanted to work in the financial district. "Cable wasn't even on my radar," he says.
But after two summers commuting for internships from Long Island into Manhattan and dealing with mass transit and accessibility problems, Brown, who has dwarfism and uses a mobility device, started looking for work closer to home. He applied for a job 14 years ago at what was then Cablevision, and though he could have had an inside connection, he chose not to use it.
"My dad was a longtime Cablevision employee. I tried my best not to tell him until my second interview. He was pretty surprised I had not said anything to him," recalls Brown.
That's indicative of the type of employee Brown embodies. He's independent and always up for a challenge, taking on risk management roles through the years in various departments—from customer service to marketing to network management. For the last four years, he's been in revenue planning. And pretty much anyone who has met Brown or worked with him will tell you he's enthusiastic and a true ambassador for the company.
That employee spirit led him to take on the role last year of leading employee resource group Altice Access, which represents people with disabilities. It's a role he takes seriously, noting that recruitment of people within the company who identify with disabilities can sometimes be hard. "The stigma in America for so long has been, 'don't try to stand out. Don't look like you could be a liability,'" he says. "I think we are trying to rip the cover off that at Altice USA." Of course, an Employee Spirit Hero can handle the job. With Brown as Access' leader, it has grown from about 10 people at its formation to more than 50 today.
Altice's emphasis on diversity and inclusion (it just received a perfect score on this year's Corporate Equality Index released by the HRC Foundation) gets Brown fired up. "It's not just on paper. It's in meetings. It's in the way our CEO and COO pay attention to you when you're across the boardroom table and you're speaking about D&I efforts. When people really care, you can tell," he says.
Brown's influence is being felt outside the walls of Altice as he serves as an advocate for customers with disabilities. "We have 30 new walk-in centers… being built across the country. Those 30 centers will be the interactions our customers have with us," he says. "I'm working with the architecture group and construction management group to ensure complete accessibility. It's amazing to get your foot in the door before projects are even finished."
"Clint's relentless positivity in everything he does at Altice USA is contagious and it deserves to be celebrated," says Colleen Schmidt, Atlice's EVP, HR. He is someone that makes a true difference in the lives of everyone he works closely with here at the company, and he is a standout advocate on our behalf with many aspects of our local and regional community. He is a great example of what Altice USA strives for, and we are a better company because Clint is a part of our team."
-Amy Maclean