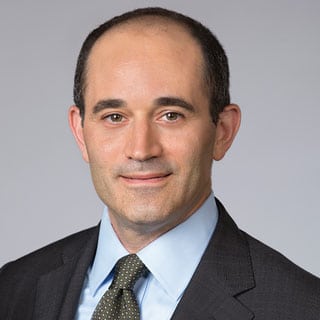 Harris distinguishes himself in programming and regulatory issues, including piracy, which was at the forefront of his practice in 2017. "It is absolutely critical for our industry to stop the wide-spread theft of content," he says. That's a sermon Charter CEO Tom Rutledge has delivered several times over the years. Since joining Charter from Cablevision in 2016, Harris has overseen all legal support for programming and product groups as well as regulatory compliance and policy matters. His work has included implementation of processes to comply with conditions from the Charter/Time Warner Cable/ Bright House integration. Outside of work, Harris is an avid fan of the New York Mets.
What have been the most important legal issues in communications for you in the past year?
Piracy issues. It is absolutely critical for our industry to stop the wide-spread theft of content. To that end, I have been involved in the joint efforts by content owners and distributors to combat streaming piracy through devices like Kodi boxes; hopefully content owners and distributors are finally realizing we need to work together on these issues, rather than suing each other like we have for decades. I have also been working on strategies to combat password sharing, which is simply theft in friendly clothing.
If you could be remembered for just one case, which case would that be and why?
Cartoon Network v. CSC Holdings, although I think of it as the Cablevision RS-DVR decision. Cablevision was relatively small cable operator, and we created an innovative cloud-based DVR; literally every major content company sued us. So it definitely felt like we were David fighting mighty Goliath. It took a lot of creative legal thinking to develop the arguments that ultimately prevailed in the case, and I think the decision really opened the door for the proliferation of cloud-based services. As a lawyer, it's not often you have a role in changing an industry.
What movie superhero would you most like to be and how would that character fit into the legal world of communications?
The Incredible Hulk. I bet broadcasters would back off their outrageous retrans demands, if I turned into a giant green monster whenever I became agitated.