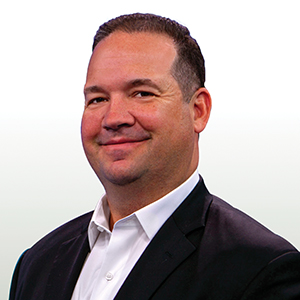 Years in Industry: 25 years
Education: BA, Elmira College
Lifelong Boston sports fan Wayland joined NBCU in February 2019. It's safe to say he made quite an impression. He was named head of NBC Sports Boston in December, and his role further expanded in April with a promotion to president and GM of NBC10 Boston/WBTS, Telemundo Boston/WNEU and regional cable network NECN. All four Boston properties are housed under the brand new NBCU Boston Media Center, which opened in January. His job is to make sure they work together to become the go-to destination for New Englanders.
The COVID-19 Pandemic forever changed my perspective on:
Everything!
How has the pandemic shaped the industry's future?
I think the industry was in the process of trying to reinvent itself in many ways prior to the pandemic. I think the pandemic has forced us all to expedite that process, but it has also forced us to try things that we may not have in the past, but probably should have been attempting. It represents a great opportunity to for us to establish a new path forward, because there is no historical example to guide us as this has never happened. It has encouraged a much needed entrepreneurial approach to all aspects of our business.
Number of subscriptions to streaming services:
5
Without sports on TV, I have…
Read a lot more, stole back some quality time with my wife and four daughters, completed long overdue projects around the house and connected with friends through video calls I have not been in touch with for too long!
The future of broadband is…
Only limited by our inability to imagine.
When restaurants open back up, my first stop will be…
In Boston, Pellanas. In New York, Il Postino.
Last content I streamed:
Celtics replay on My Teams app
Is cable recession proof?
I don't think any business is immune to economic adjustments, but maybe cable is best described as recession protected.
Slack channel I spend most of my time on?
I have not used a Slack channel.
My prediction for a new business or product that could emerge from the pandemic is…
I think products that aid in remote work enhancements will be in higher demand than anyone ever imagined. It will impact every facet of our business from improving technical applications, basic communication and leading from a distance.
"Tiger King" is a thing because…
Ha! I am not sure as I have not watched it.
The first thing I'll do when I'm back in the office is…
I am still going to the office regularly, but I miss the social connection with people. I look forward to the day when we can have an in person meeting with my team so we can resume our normal banter outside of the day to day business discussions.
My prediction for AVODs is….
I think Peacock is and will be the best AVOD service forever 😉. My opinion is, no matter the service the content has to be compelling. Also, we need to evolve the way we get our advertisers connected to our viewers. This space represents an opportunity to do achieve both of those goals, and if we get that right AVODs will be very successful.
If I launched my own personal streaming service, it would be called…
Vaccine, cuz we all desperately need one!
Working from home has taught me…
As I said earlier, I miss the energy and inspiration I get from being with people at the station. I love being able to walk the building and talk to people about what they are working on, obstacles they are facing, positive and constructive feedback, how their families are doing etc… I never realized how much I need and love that being part of my day.
Biggest challenge facing advertising?
I think this has been the same problem for a long time, but we need to develop new categories of business to value what advertising can do for them. I think categories happen to us more than we develop ways to help products or services to better reach their customer base.
Best Zoom background goes to…
We use Microsoft Teams
Last show binged not on your networks:
The Last Kingdom
What product could you not live without?
Assuming the essentials like hygiene, food, clothes, cars are excluded I would say my 58 degree Cleveland wedge as it gets me out of more trouble on the golf course than any of my other clubs.
Worst job you ever had?
Stacking milk in the dairy department at Liberty Market in Winthrop, MA when I was 14 years old. At the end of each shift I always smelled of spoiling milk, brutal. However, it was great motivation to work harder in school and to dream big to make sure that was not what I would end up doing in life.