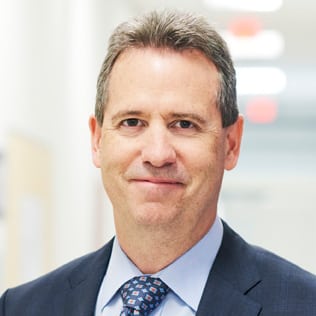 Years in Cable: 19 years
Education: BS in Electrical Engineering
McClelland has been pushing Arris full steam ahead since taking over as CEO in September 2016. His chief accomplishments include guiding the company through the protracted acquisition of Ruckus from Brocade and its separation from Broadcom—a deal that puts Arris in an enviable position when it comes to next-gen wireless and wired networks. McClelland also made a mark last year by implementing company-wide business practices, such as streamlining purchasing processes. He's also focused on keeping the company on the cutting edge, with Arris to spend hundreds of millions in R&D again this year.
The biggest innovation in media/broadband over the last year? The hottest topic in Cable Broadband over the last year has been the introduction of Distributed Access Networks. Over the next several years, significant investment will be made in the HFC network to extend the fiber portion of the network, increase internet speeds and capacity, and leverage the power of DOCSIS3.1 and digital fiber optics. The ability to cost-effectively upgrade the HFC network over time has been a huge advantage for cable Service Providers, and the extensive metro and residential fiber networks are a tremendous differentiator and asset.
Your social media platform of choice? LinkedIn – great platform for sharing relevant professional information and building new contacts.
What product or service could you not live without? Broadband! It has become the foundation for the new economy, and is entwined in the fabric of our lives. It has arguably become one of the basic physiological needs in the Maslow hierarchy alongside Sleep, Clothing, and Shelter!
What's the first thing you read in the morning? The Wall Street Journal (well, right after scanning email and texts!). The WSJ provides a great snapshot of important national and global events shaping the day, and is often quoted in business discussions.
What does the future look like for skinny bundles and flexible packaging? The power of the internet, made possible by the innovation and investment of our industry, has made access to content incredibly flexible and pervasive. And consumers are watching more video than they ever have before. But it has also created a level of fragmentation that challenges traditional business models. We will continue to see new innovative ways of aggregating and packaging great content in ways that consumers see real value and are willing to pay a premium for great entertainment.