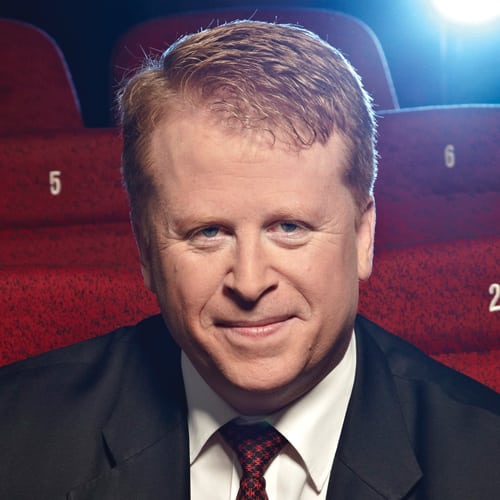 Years in Cable: 27
Education: Villanova University
Promoted to COO of Fox Networks Group in December, Sullivan heads up revenue and distribution for Fox Broadcasting, FX Networks, Fox Sports and National Geographic Partners. It's an interesting time to be in the role, given the asset sale to Disney. Or maybe Comcast depending on which way the wind is blowing. Despite all the headlines and buzz, Sullivan is tasked with getting the most revenue out of all those assets, even those that will soon be part of another company. With a background in digital and a past stint as CEO of Sky Deutschland, he is comfortable adapting quickly to change. And he knows a thing or two about drumming up support—Sullivan spent some time in high school and college as legendary baseball mascot Phillie Phanatic!
The biggest innovation in media/broadband over the last year? Virtual MVPDs (e.g Hulu Live, DirecTV Now, YouTube TV, Sling, etc.) I know they started a few years ago, but 2017 is when they really gained traction—watching Nova all the way through the March Madness on Hulu Live was a thing of beauty!!
If you wrote a "Black Mirror" episode, what dark side of technology would you explore and why? The hacking and subsequent mass broadcast of Ring Doorbell video cameras?
Favorite restaurant: Jim's Cheesesteaks on South Street in Philly.
Best advice your mom or dad ever gave you? Never assume your priorities are more important than those of the person across the table.
Worst advice your mom or dad ever gave you? Eat your lima beans; they'll make you big and strong (they didn't).
If I ever get elected President, my first executive order will be… to order a recount.
An area where media/ broadband could use improvement? Child content and device controls.
Your social media platform of choice? The stands at my son's football games.
Bitcoin – pro or con? Pro, but with controls and regulation.
Favorite shortform content? My daughter's cooking videos (but not necessarily eating the results).
What product or service could you not live without? NFL Game Pass (I am a displaced but loyal Eagles fan).
What's the first thing you read in the morning? The Wall Street Journal.
What does the future look like for skinny bundles and flexible packaging? Encouraging – specifically the new virtual MVPDs – as they are delivering a proper, modern, digital experience, with great content choice, and an affordable price.
Last show I binged not on my network(s): Babylon Berlin
Favorite podcast: "Analog(ue)" – the human side of technology
If you could have a superpower, what would it be and why? Time travel (backwards) … my kids are growing up too fast!!!