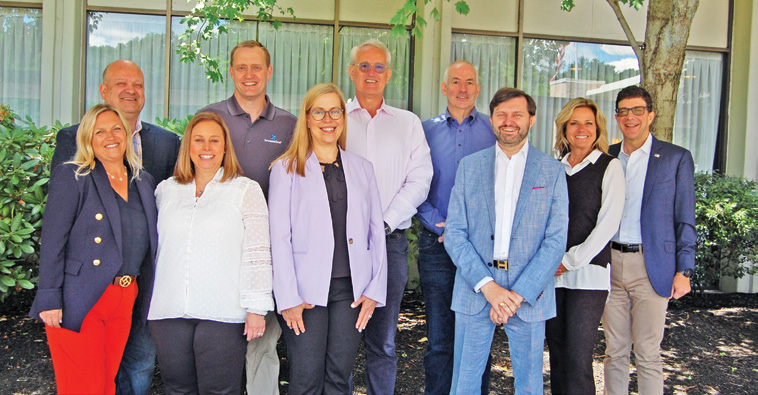 Breezeline's Blueprint for Success
By Amy Maclean
Breezeline's transformation from Atlantic Broadband, its $1.125 billion acquisition of WOW!'s Ohio systems and its continued expansion into new markets served by large incumbent cable operators may have seemed like, well, a breeze. That's only because it was all part of a well-crafted strategic plan years in the making.
The wheels were set into motion when Atlantic Broadband owner Cogeco selected Frank van der Post as the U.S. cable operator's new president in October 2019. Atlantic Broadband was still in the process of integrating MetroCast, which it acquired in 2018 for $1.4 billion. His first tasks were putting a more centralized operating structure in place and hitting the road to visit every single system. Just as he was sitting down with senior leaders to create an overarching strategy, COVID-19 hit.
"In a way, it helped because there were so many initiatives that might have taken you 12 months to implement, which we were now implementing in 12 days because all of the organization was focused around working from home, serving our customers and making sure that the network performance was there," says van der Post. "It gave us some time to get some of the processes a bit firmer, put more money into digital and customer self-service."
The pandemic also collided with the launch of "The Experience Blueprint," Atlantic Broadband's framework for what the customer experience should be. The cultural transformation project wasn't developed by van der Post or senior leaders, but by the frontline. It represents what they aspire to be. "This is our compass to go above and beyond and turn our customers into fans. We define why we exist, which is to enrich people's lives. I think some people will take a step back and say, 'wow, that's really aspirational.' But that's actually what we're doing. We're connecting them to what they need to be connected to—life, job, work, school," says Head of HR Heather Camerano, who joined the company in March 2020 as its first hire to start virtually.
COVID made Blueprint's launch a bit trickier. Workshops had to move from in-person to virtual. To get the operator's nearly 1,600 employees immersed in the Blueprint way, a "casting call" went out for "connectors"—employees who aren't facilitators by nature, but are passionate about delivering a great customer experience. "We started with 30 connectors. We gave them the tools, the training to deliver the immersion experience. To have colleagues immerse their peers … is very powerful," says Camerano.
Modules one and two were completed in 2021, with employees participating this year in a third and fourth module. The programs are focused on living the Blueprint in day-to-day life. That means throwing out the script and interacting with a customer in an authentic way and personalizing the conversation. In other words, being human instead of robotic. It means empowering a customer representative to give a credit for whatever amount of money they feel is right instead of seeking out an approval or following a set policy.
Van der Post has a varied background that includes serving as chief commercial officer for Netherlands operator KPN as well as senior roles at British Airways and InterContinental Hotels. Some of that hospitality experience transfers quite well to Breezeline. "What you really want to achieve is that customers are with you because they want to be, not because they have to be," he says.
One of the tactics van der Post uses to get to the heart of what matters is to host "Frank with Franks," where he shoots the breeze for a couple of hours with a cross-functional group of employees about what's working and what isn't. No supervisors, managers, HR or senior leaders are present. "It's not me talking; it's me listening. What I found all throughout my career is that often if you're in a senior leadership position, the people around you will tell you what they think you need to hear or want to hear. When you talk to the frontline staff and colleagues… you really hear what's going on," he says. These Frank with Franks have helped quickly identify equipment problems, ways to simplify the approval process for technicians' equipment needs and other issues.
"He'll do these meetings and come back and say, 'Hey, we have certain set-top boxes that are failing.' It's embarrassing that my president has told me that in a meeting, and he's heard it backchannel from others. But it's crucial to know because customers are experiencing that. That should not be the experience," says Heather McCallion, Breezeline's VP of Products and Programming. "By and large, that's not the way our products behave. But I think it's important to own that anything you deploy can have a hiccup. You're going to have challenges, so you better be prepared to have your finger on the pulse and have a plan to address it."
That high level of transparency helped the operator introduce IPTV product "Breezeline Stream TV" earlier this year in New Hampshire, Maine and Morgantown, West Virginia, with more markets coming soon. Stream TV should be across Breezeline's footprint by the end of the next fiscal year. "We'd always had Netflix integrated with the set-top box, which was fantastic. We were one of the first operators to do that. But as the proliferation of SVOD and apps continues to be part of our converged world, we knew that we needed to make a big bet on how we gave customers that sort of access," McCallion says.
For the IPTV service, Breezeline opted for a combination of TiVo's metadata and search function with an interface already launched through its QAM video product. Eventually, the plan is to find a way to reallocate the bandwidth from QAM video to broadband, but that's a way out, with Stream TV primarily launching to new customers right now.
The company's many initiatives include a commitment to reduce greenhouse gas emission by 65% by 2030 and be carbon neutral by 2050. In April, it began deploying the first electric vehicles in its fleet. "It's not going as fast as we would like because of the supply chain challenges. And then also the charging infrastructure in the U.S. is limited, but we do expect that to improve. Biden, under the infrastructure bill, has allocated funds to improving that across the country. In the meantime, we are building our own charging stations at our headends over time to help with the charging capacity," says SVP and General Counsel Leslie Brown. The company has also recently announced a range of digital literacy initiatives and is extending its reach into hard-to-reach rural areas through federal, state and public partnerships.
Under van der Post's leadership, Breezeline has experienced a rather large growth spurt. Most noticeable was the acquisition of WOW!'s Ohio systems, giving Breezeline its first entry into the state. It made sense because WOW operated next to Breezeline systems in Western Pennsylvania. "We found that this particular part of the WOW! system… was most attractive to us a.) – for the closeness of our network, and b.)- because it's really two big concentrated areas around Cleveland and Columbus, Ohio. We said, 'OK, if we can get our foothold in there, we can grow into other parts of Ohio,' rather than having it all spread out and then trying to bring it back together," van der Post says. "If there's an acquisition at the right time, right place and right fit, we will capture that. It will take us a little bit of time to de-lever, but in the next couple of years, we'll be ready to do another one."
In the meantime, Breezeline's finding other ways to expand, nabbing cable franchises in markets that have it competing against big players like Comcast and Charter. In July, Amesbury, Massachusetts, which has been served by Comcast for years, signed an agreement that brings Breezeline to its 13th state. "There are still quite a few opportunities for consolidation. At the same time, though, I think you should never bet all your money on one horse," van der Post states. "We said let's start to venture out if we have a competitive product at a competitive price with a competitive service offering. I wouldn't say it's easy, but you can do well, even if you go up against bigger competitors."
And these new markets Breezeline expands to are all FTTH. "As we've extended into markets where there are incumbent providers already, we're the only operator in many cases offering fiber to the premises with symmetrical speeds," says McCallion.
With this growth mindset, it became clear that Atlantic Broadband as a name was too geographically narrow for the operator, particularly following the Ohio acquisitions. But the team felt even the Broadband part of the moniker was limiting. "As we look at our product portfolio, which already includes FTTH and fiber services for business, we have gone above and beyond broadband in our growth strategy," says Julie Sullivan, VP of Marketing. "The second reason, and arguably more important, is looking at our customers and doing a lot of research to understand what they want, what's working, what's not working. What they told us pretty clearly is that they want transparency and they want an easier experience than they might typically get with cable companies and internet service providers today. They want and expect the same level of service that they get with every other brand that they do business with and love."
Enter Breezeline. It rose to the top time and time again with focus groups. A breeze is pleasant. It's easy. It's light. "If you have a name that really connotes something that we are trying to bring to life—like the ease of doing business with us—we felt it would fast track the connection with our customers in our name."
On Jan. 10, the company went out with the Breezeline branding across all its markets. But harkening back to its Experience Blueprint initiative, the change started with employees. "We always say that our colleagues are our No. 1 branding asset. We have to acknowledge this is a big change for them, especially those who have been with us for years," says Sullivan. "We had a lot of colleague communications and celebrations to talk to them about why we have a new name and how you can bring this name to life with every interaction." Then came a true omnichannel approach to break through the clutter and get the name out there on everything from billboards to radio to social.
"I think we all agree that the 4,000 assets and the launch of the brand was actually the easy part. The more challenging, and I would say the even more exciting part, is now to keep the brand dynamic and grow it in the market," she says.
Van der post believes the building blocks are all there. "In the last three or four years, since the MetroCast acquisition, I think the team has really done a great job on building that redundancy and infrastructure and strengthening the networks. That's at the very core and foundation of what we're doing," he says. His also proud of the work to grow data and analytics, expanding the team to about 20. "We can leverage this data to better serve customers, to better sell to customers to better anticipate outages or churn. That's the part we're developing now."
Sounds like a breeze.
Fast Facts
8th largest cable operator in the U.S.
13 state-footprint: Connecticut, Delaware, Florida, Maine, Maryland, Massachusetts, New Hampshire, New York, Ohio, Pennsylvania, South Carolina, Virginia and West Virginia
688,000 homes and businesses passed in the acquired WOW! systems in Columbus and Cleveland, Ohio