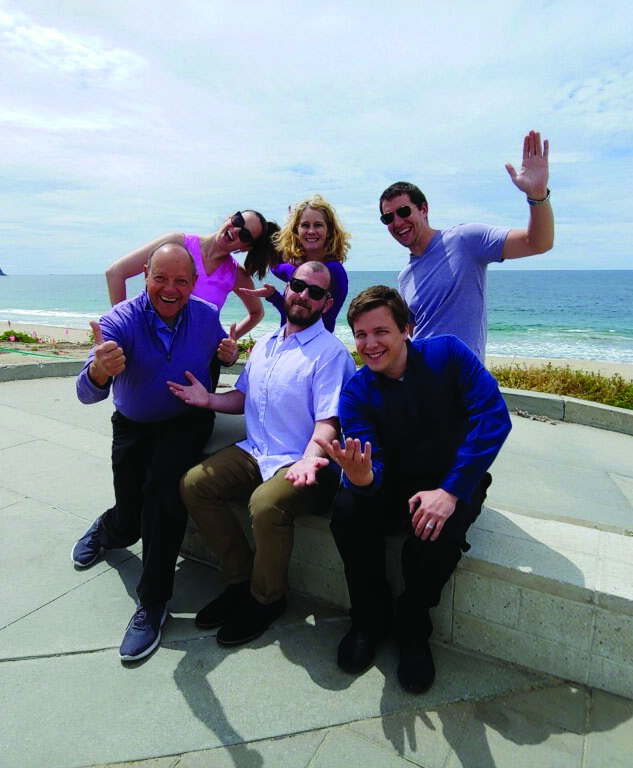 The average business professional can slog countless hours in a dreary cubicle without ever really engaging with their co-workers outside of the watercooler or dreaded weekly meeting.
Enter Bob Gold & Associates, where the company's small size and big aspirations make working together an integral pillar of success. Whether it's forwarding the phones and trekking out for coffee at the local shop, taking turns representing the company at various events, bodysurfing together in the warmer months, or even congregating in the building's lounge—nicknamed "The Pit"—to chat about their weekends or daily goals, building one another up and collaborating are part of any other day that ends in "Y" for this team of nine.
That sense of camaraderie helps BGA extend its touch out into the community. That includes pro bono work with outfits like the Media and Entertainment Services Alliance (MESA), a 21-year-old's dessert Kickstarter project, and a successful campaign with Malibu locals who wanted to stop tigers from being housed in the neighborhood.
The Malibu tiger project nabbed the firm a PRSA Los Angeles Chapter PRism Award for outstanding pro bono campaign. The agency's efforts extended over the course of seven months, with the team generating coverage in local and national news outlets including CNN, KTLA 5, Los Angeles Times, KVTA radio and local blogs. Eventually, an appeals court ruled the tigers can't be kept near neighborhood homes.
The boutique PR firm has built its reputation for work on its core vertical, media and entertainment technology, but under Gold's leadership it has also expanded with out-of-the-box clients in order to stay fresh and ignite creativity.
"The industry we serve is pretty unique; cable and entertainment is at the heart of everything we do. But we take one-off projects like the New Roads private school in Santa Monica—and support what they're doing in the community because their mission is to have the most diverse student class in the area," says BGA marketing and communications director Roxanne Leone.
Gold founded the company in 1997, and is armed with more than three decades of PR and marketing experience—including the launching and rebranding of a variety of companies, from start-ups to Fortune 500s. He takes pride in starting each day with a staff walk and meeting that includes sharing professional intentions for the week and a personal affirmation for the day. "It's a highly civilized California-like way to be more compassionate and collaborative. When we make work personal and from the heart—we experience more creativity and better results," Gold says.
Looking towards the future, BGA continues passing the torch to the next generation of talent through mentorship and internship programs, rounding out the team by filling niche roles through job fairs at local universities and conferences rather than relying on increasingly common digital methods like LinkedIn. It's just one more way BGA exemplifies the words community connection.
"Bob is big on internships and supporting graduating students, so we do a lot of recruitment and guest-speaking opportunities, just to make that transition easier," Leone says. "And Bob likes to mentor year-round. He's constantly lending a helping hand."
"Community implies caring about your constituency and about making sure that everybody is offered these same opportunities in your community," says Guy Finley, who works with the BGA team as president of MESA. "Bob cares about what he does. As the owner he gets to do what he wants and he's built a good business around that passion and around helping people."
– Amber Dowling