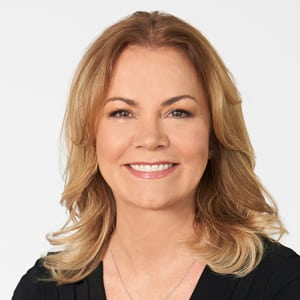 Roberts is continually looking for new ways to grow the vast NBCUniversal portfolio. Not only did she negotiate Universal Cable Productions' first scripted project with Netflix, but Roberts and her team worked out a deal with Blumhouse Television for a 10-part series based on the film franchise "The Purge," to be simulcast on USA and Syfy in January 2018. Roberts also is part of NBCUniversal's push to find non-traditional business partners, which led to the acquisition of Priv, an on-demand beauty and wellness app, and the craft world's popular educational and e-commerce site, Craftsy. As new avenues of opportunity continue to open, it's a good thing that Roberts has a plan to relieve stress. "Get outdoors… and Breathe!" she says.
Who is your favortie current female TV character and why?
Samantha Bee—we need strong female voices in late night.
What is one way the industry can continue to evolve in ridding itself of gender discrimination?
Groom and promote more qualified women.
Best advice for relieving stress?
Get outdoors…and BREATHE!