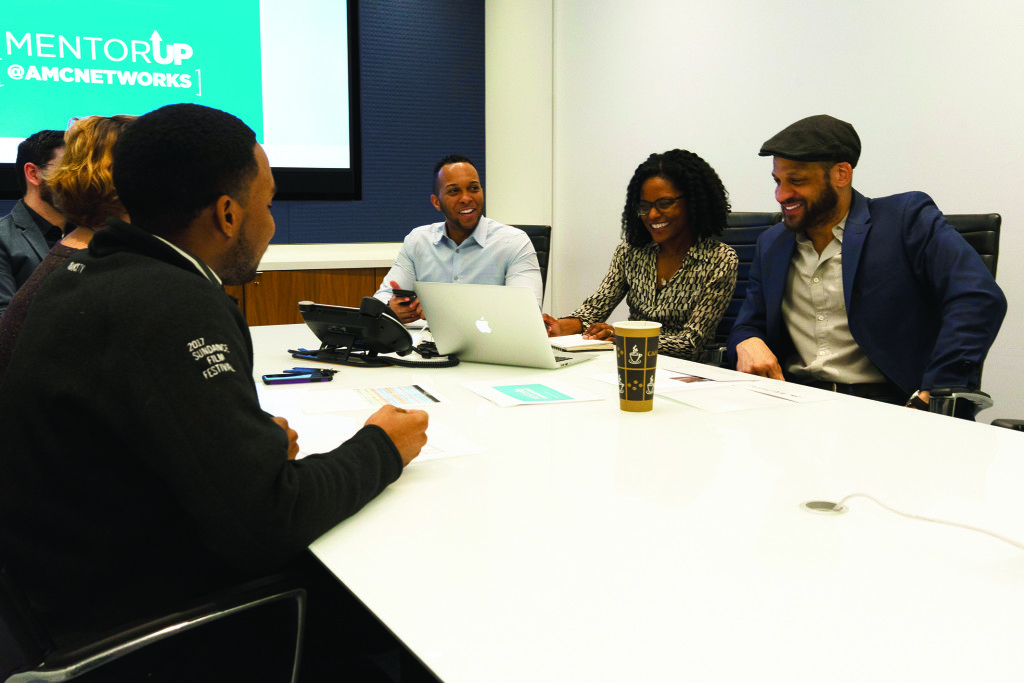 Mentorship programs are a dime a dozen nowadays, and that doesn't mean that they're any less valuable or necessary. But what would happen if you flipped the script, giving junior employees an opportunity to share their insights with folks in far more senior positions?
SundanceTV scheduling director Sowon Sawyer first heard about reverse mentorship a year ago, and she immediately got to thinking about how it could be implemented at AMC Networks. And so MentorUp was born. The concept was for a diverse mentorship program that would connect senior executives with junior employees who they may not often (or ever) cross paths with.
Sawyer wanted to differentiate MentorUp by creating a two-way dialogue based on interests and skills, giving the junior employee a chance to teach the senior executives a thing or two. Topics of conversation could include anything from social media to the state of the media landscape.
"You're really elevating the voice of the junior employee in a way they don't have an opportunity for in any other setting," Sawyer says. "They're being heard in a very personal one-on-one way, which really doesn't happen."
There were enough potential positives to give the program the go-ahead for a pilot in the company with the goal being to extend it to the entire company as a voluntary initiative. "The leadership here has been very open and welcoming to ideas like this and that's the only reason we've been able to do it," Sawyer says. "We got the green light very quickly and that really made all the difference."
For Chief Transformation & People Officer Jen Caserta, the idea was a perfect fit for the culture of collaboration and innovation AMC Networks works hard to promote.
"Our success derives from our ability to think creatively, to come up with new and exciting ideas that move our business forward in a fast-paced and ever-growing industry," Caserta says. "We've found that one of the most innovative ways to generate ideas like these is to take advantage of the diverse voices and backgrounds of the employees found in our own hallways."
AMC Networks production and corporate marketing director Tyra Hanshaw took it from there as chair of a mentoring subcommittee within the company's D&I committee, managing the program's development and execution. The pilot was first made available to employees in AMC Network's Emerging Leaders Employee Resource Group (ERG).
The first step was what could be described as "mentoring speed dating." Employees wanting to participate completed a survey built to assess their areas of expertise as well as their personal and professional interests. The executives who volunteered were then questioned as to what topics they wanted to learn more about over the course of the six- to eight-week program.
Executives were then able to choose from the anonymous profiles of the junior employees. Five matches were made and it's been nothing but smooth sailing ever since.
"It made me feel more connected to larger industry issues and company-wide goals and initiatives simply because I was talking to one of the senior leaders about how he thought about industry-wide problems," AMC Networks transformation strategy director Grace Chung says.
Chung, an alumna of leadership programs like The Cable Center's Intrapreneurship Academy, was one of MentorUp's first participants. "Because it's flipping the script, it was a much more engaged conversation where both perspectives were being brought to the table on a more level playing field," she explains.
Although the pilot has been small, its impact has reached far beyond the ten individuals originally paired in the program.
"I found that there were a lot of questions I didn't have answers to," Chung says. "I ended up opening my Rolodex and connecting my executive with other junior employees I know who have expertise in those areas."
– Sara Winegardner