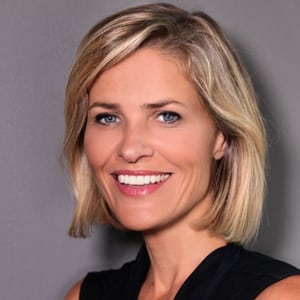 Years in Cable: 14 years
Education: Warwick University: Economics and German art/literature/language
One Word that Best Describes Me: Passionate
A+E Networks, which has retooled over the past couple of years in terms of executives and strategy, is poised for a growth spurt—and Cohan and Hill are two of the emerging powers at the company. Hill was promoted to her current post in 2016, a year after joining the company. Cohan added digital oversight in 2015. One project they both are focused on is the return of "Biography." The Emmy-winning "Mainstay" will be back as a re-imagined global, linear and digital nonfiction franchise, rolling out domestically and internationally across platforms on A&E, History and Lifetime beginning this spring.
Q&A
The best thing about fast broadband is… Being able to be in one home and, simultaneously, having your 7-year-old son jigging to his feed on Spotify and playing the latest Minecraft game on the computer. To have your 12-year-old daughter watching the latest season of Dance Moms whilst also scrolling through the Twitter, YouTube and Facebook comments, whilst her parents are downloading a movie to watch when they're both in bed. We have more ability to consume, to play and to connect with content that we love than ever before.
Three years from now, what do you hope has been invented? That Doctor Who's TARDIS becomes real. I travel between London and NY. Then London and LA. Then NY and Asia. To be able to pop into a time machine and just 'be' would be a glorious thing.
What are the top three qualities you look for in a hire? SMART: It just counts! INNOVATIVE: the ability to pivot, to zag, to find new ways. To be prepared to kill an idea and have the energy to find another. Invaluable. OPTIMISM: there's so much change going on. You want people around you who retain a level of upbeat, who come with solutions to the issues not just the problems, who have the courage to champion change rather than give you multiple reasons why it's going to be hard.
Favorite podcast: I'm an old-timer on this one. I love The Moth. They say "the shortest distance between two people is story." I laugh, I cry, I also just allow myself to feel.