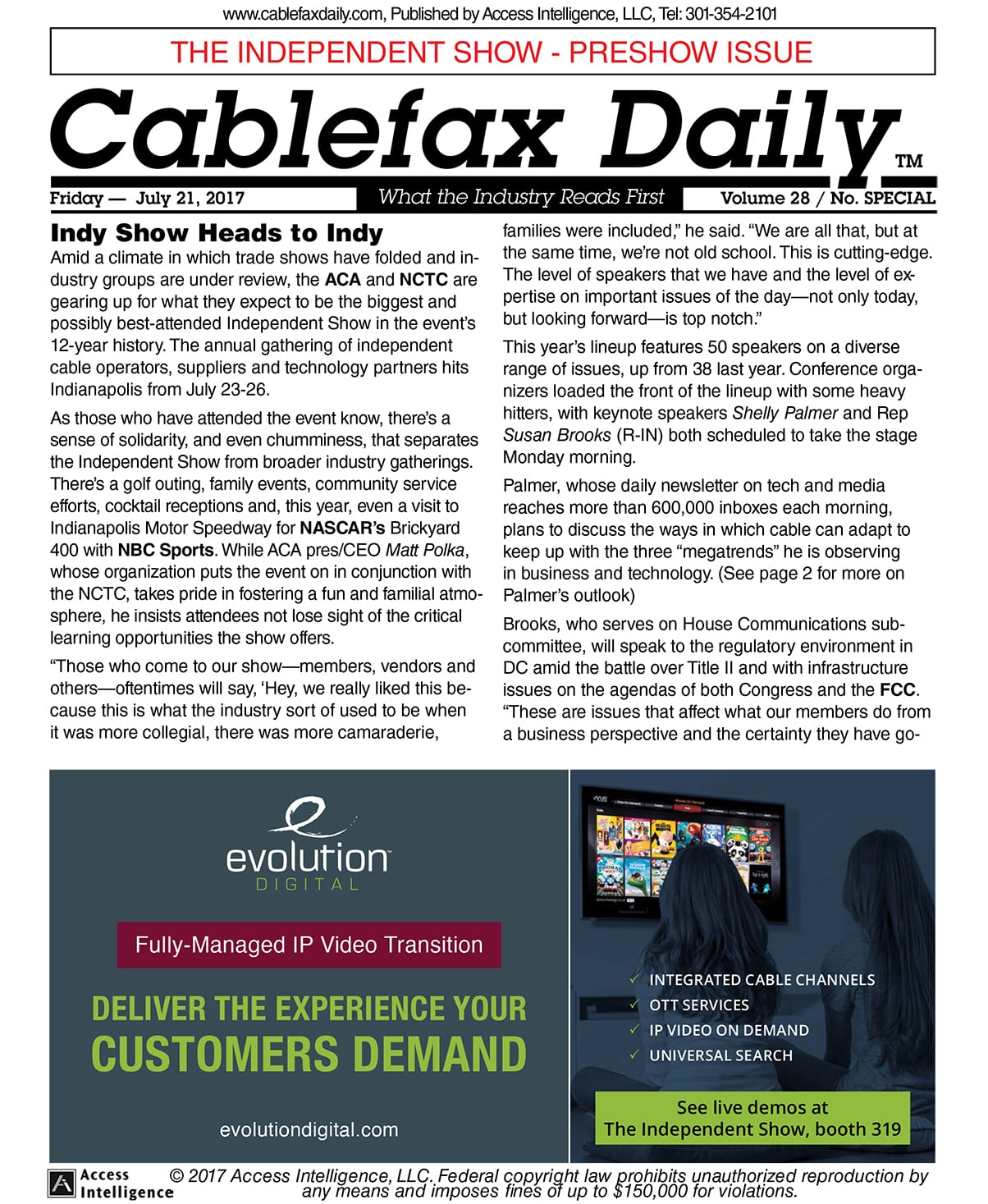 Amid a climate in which trade shows have folded and industry groups are under review, the ACA and NCTC are gearing up for what they expect to be the biggest and possibly best-attended Independent Show in the event's 12-year history. The annual gathering of independent cable operators, suppliers and technology partners hits Indianapolis from July 23-26.
As those who have attended the event know, there's a sense of solidarity, and even chumminess, that separates the Independent Show from broader industry gatherings. There's a golf outing, family events, community service efforts, cocktail receptions and, this year, even a visit to Indianapolis Motor Speedway for NASCAR's Brickyard 400 with NBC Sports. While ACA pres/CEO Matt Polka, whose organization puts the event on in conjunction with the NCTC, takes pride in fostering a fun and familial atmosphere, he insists attendees not lose sight of the critical learning opportunities the show offers.
"Those who come to our show—members, vendors and others—oftentimes will say, 'Hey, we really liked this because this is what the industry sort of used to be when it was more collegial, there was more camaraderie, families were included," he said. "We are all that, but at the same time, we're not old school. This is cutting-edge. The level of speakers that we have and the level of expertise on important issues of the day—not only today, but looking forward—is top notch."
This year's lineup features 50 speakers on a diverse range of issues, up from 38 last year. Conference organizers loaded the front of the lineup with some heavy hitters, with keynote speakers Shelly Palmer and Rep Susan Brooks (R-IN) both scheduled to take the stage Monday morning.
Palmer, whose daily newsletter on tech and media reaches more than 600,000 inboxes each morning, plans to discuss the ways in which cable can adapt to keep up with the three "megatrends" he is observing in business and technology. (See page 2 for more on Palmer's outlook).
Brooks, who serves on House Communications subcommittee, will speak to the regulatory environment in DC amid the battle over Title II and with infrastructure issues on the agendas of both Congress and the FCC. "These are issues that affect what our members do from a business perspective and the certainty they have going forward," Polka said. "It's always important to hear the changing perspectives of members of Congress as they interact on these issues."
In the first year since the shuttering of the annual Cable Show, NCTA CEO Michael Powell will make his Independent Show debut as the third keynote speaker Tuesday morning. NCTC pres/CEO Rich Fickle said attendees can look forward to Powell sharing his perspective on the big picture in the industry, as he deals with larger MVPDs and programming groups. In addition, his past life as an FCC chair makes him a powerful voice on the massive shift occurring in the nation's capital.
Other key topics on the agenda include migration to IP, OTT strategies, virtual MVPDs, industry consolidation and IoT offerings. This year's show also features an increased number of breakout sessions, with topics ranging from cybersecurity to advanced advertising.
Organizers are optimistic about surpassing the record 461 member operators who attended the 2014 event in K.C. Registration is already up from last year in Orlando. This year's show will also host 143 exhibiting companies, 21 of whom are first timers. Fickle is particularly excited about the newcomers.
"We'll talk about the direction we're taking with some of our suppliers, new partners," he said. "There are some new partners that will be at the show that aren't traditional cable vendors, they're going to help with that migration to IP video."
Keynote Preview: What Palmer's 3 'Megatrends' Mean for Cable
Make sure you get your morning coffee before Shelly Palmer's keynote on Monday. Audience members will need to be sharp to keep up with the media and tech consultant's barrage of forward-looking concepts, ranging from voice control to the open-source movement. They all tie into Palmer's three "megatrends" driving change: on demand, machine learning and autonomy.
"You put those three things together, and there's never been a time in human history like that before," Palmer said. "We are on the cusp of sharing the planet with things of our design that in many cases can react significantly quicker and in different ways than we might expect, than we can."
Even with technology changing business as we know it, Palmer remains bullish on independent cable going forward. One key asset operators have, he said, is data from long-standing customer relationships. In addition, he sees opportunity in home security with the proliferation of IoT-enabled devices.
He adds independent operators' flexibility gives them an edge over "big cable." "They can get a couple of people in there that are talented and kick the s*** out of Comcast because they can move 1000 times faster for a lot less money," Palmer said. "It's just a question of desire and willingness."
Cable Cares: Independent Show Offers Opportunities to Give Back
For the first time in the Independent Show's history, attendees will have built-in opportunities to give back to the community in which the event is being held. Both efforts this year, sponsored by Outdoor Sportsman Group's Sportsman Channel and Christians in Communications, respectively, are aimed at feeding the hungry in Indianapolis.
Sportsman is bringing its decade-old Hunt. Fish. Feed. program to the local Good News Ministries with the help of volunteers from the Independent Show. The Indy stop is one of 11 on this year's Hunt. Fish. Feed. tour, which includes events across the country in conjunction with Comcast, Charter and Midcontinent Communications.
The program ties in perfectly with Sportsman Channel's focus on the outdoor lifestyle, tapping into game and fish donated by sportsmen and women to help feed hungry individuals and families. One deer produces 70 pounds of edible meat, good for feeding up to 150 people in need. Since its launch 2007, Hunt. Fish. Feed. has served more than 30,000 meals and donated 12,000 pounds of game meat and fish to shelters.
For its July 23 effort associated with the Independent Show, Sportsman plans to feed 200 people, just five miles from Marriott where the conference is being held. Led by executive chef Scott Leysath, volunteers will prepare and cook donated food, serve lunch to the 200 guests and clean up over the course of five hours.
"Hunt.Fish.Feed. highlights the impact we strive to achieve in communities across the country as outdoor lifestyle enthusiasts," OSG Networks pres/CEO Jim Liberatore said. "We look to call attention and present a solution to the problem of hunger throughout the country and we are very pleased to be able to coincide our Hunt.Fish. Feed. event with the Independent Show in Indianapolis."
For those conference attendees not participating in Wednesday's golf tournament at Brickyard Crossing, Christians in Communications is offering a chance to score a different kind of victory. In addition to hosting prayer breakfasts throughout the conference, CIC will lead volunteers in boxing, sorting and preparing food and groceries for Gleaners Food Bank, located just 10 minutes from the Marriott. Like Hunt. Fish. Feed., CIC's work with the food bank represents a chance for independent cable operators to show that they care about the communities they service.