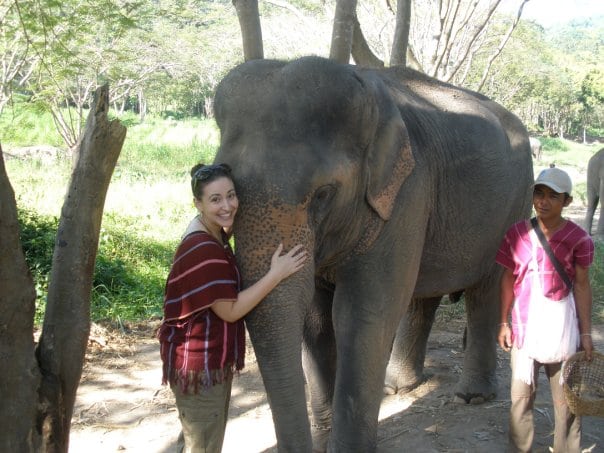 Marisa Levy, TLC's Vice President of Development, East Coast, lived abroad for seven years on various research and art fellowships after college, most notably in India, Vietnam, South Africa and the Netherlands. "As a result, I try to have an 'immersive' experience in every country I visit… which usually leads to wild stories."
Just how wild, you ask? Think witnessing a camel birth, munching on fishheads and spending a honeymoon on a freezing floor under a malaria net. Check these out:
"While in Vietnam, a friend and I created our own week-long motorcycle trek along the Cambodian border and hitched a ride with a family living on a fruit boat to get down the Mekong Delta. I shared a dinner of fishheads and mango with their little girl and they let me sleep in the hull of their boat in a hammock above the fruit.
"When my husband and I traveled to Thailand for our honeymoon, I convinced him to spend a few nights living with a family in a rural mountain village in Northern Thailand. Sleeping on a mat on a freezing floor under a malaria net is everyone's idea of a romantic honeymoon, eh?
"While in India, I spent time in rural Rajasthan where I stayed with a family in an open-air hut. At night I curled up with baby goats who would nibble on my quilt while I slept. I also spent time with a traveling pack of camel herders and witnessed a camel being born. My photos of the camel herding family won an award.
"While in South Africa, I spoke at a conference with Arch Bishop Desmond Tutu and was able to visit with him. His laugh is contagious and he gave me one of the warmest hugs of my life. Also during my time there, I learned to speak Xhosa – an African "clicking" language."