Yahoo Leads With Original Comedies, Touts Native Stream Ads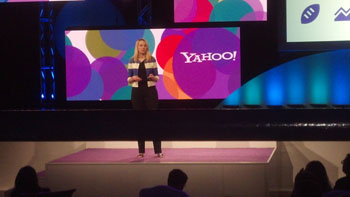 Yahoo CEO Marissa Mayer kicked off the company's NewFront Mon
Monday was the first day of NewFront week, when Internet video companies entertain advertisers during the network upfront season. And in an effort to snag a piece of the TV advertising pie, original content is increasingly the name of the game.
Take Yahoo, whose NewFront Monday night kicked off with CEO Marissa Mayer highlighting its 700 million users per month on mobile and desktop. The company's "great technology coupled with premium content" sets it apart, she said.
COO Henrique de Castro urged advertisers to shift 5-10% of their budgets from TV to Yahoo, offering somewhat of a verbal money-back guarantee. If it doesn't deliver ROI, "we don't want your money," he said. TV and Yahoo together make "the best media mix."
VP of product and media Mike Kerns touted Yahoo's native stream ads across 3 screens, rich media billboard ads and its location-based weather app featuring Flickr photos as new ways for advertisers to capitalize on the company's reach.
As far as content, Yahoo is banking on comedy, with funny guy Ed Helms ("The Hangover," "The Daily Show with Jon Stewart") leading the charge. A remote control 'copter took the stage before he did, a reference to his new show "Tiny Commando." It's about a toy-sized army led by a 4-inch tall Zachary Levi ("Chuck"). Helms plays the series' super villain, "Cesar Pequeño," whose size is of course comparable to the commando's. Helms promised to deliver huge action. "But really tiny."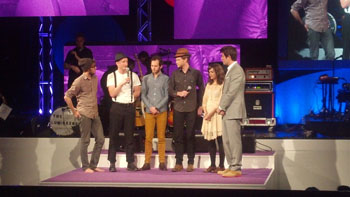 At the evening's close, The Lumineers performed a half-hour set
On the theme of the event Erin McPherson, Yahoo's VP and head of video said, "what a difference a year makes…Last year was about our commitment to original programming. This year is about scaling on that success," she said, promising advertisers 18 categories to buy across. She cited its web comedy series "Burning Love," which landed a spot on E! Network this past February. "There are opportunities for us to be a first-window platform," she said.
Other new original shows include "We Need Help," starring Cheryl Hines and Rachael Harris and "Losing Your Virginity with John Stamos" (that is, hosted by Stamos… he has no plans to take guests' virginity), which looks at celebrities' first sexual experiences. WWE will air 2 new original shows and for the first time ever right before "Monday Night Raw" Yahoo will stream a half-hour pre-show.
Yahoo also brought on Martin Sorrell, the CEO of advertising and marketing firm WPP, to discuss trends in digital. He said that 34% of his company's business activities are in digital, and "in the next 5 years it should be well up into the 40s…In 4 or 5 years at least 2/3 of our business" will come from digital markets, he said.
The evening concluded with a 30-minute performance from Grammy Award-winners "The Lumineers," which naturally was streamed live on Yahoo.