The final and 36th annual Western Show drew only 6,150 attendees (one-fifth the number in 2000) and 90 fewer exhibitors than last year. But from our admittedly skewed perspective, we daresay it was a strong finish: nearly all of the exhibitors were technical, CableNet dominated the floor, and there was plenty of talk about using technology to make and save money. Rhetoric at the executive-level general sessions stayed mostly pragmatic. "It's real easy to get dreamy about what you could do 10 years from now," Glenn Britt, chairman and CEO of Time Warner Cable, admitted at the CEO panel on Wednesday morning. "The trick is… to serve real customers now." Thanks to cable's platform, there are growing numbers of certain customers. "It's been a beyond-exceptional year for high-speed Internet," Brian Roberts, president and CEO of Comcast Cable, said. But he candidly acknowledged one of the industry's weaknesses, adding that it was only "so-so for basic." Keep it simple…(1) But wherever two or more cable executives are gathered, there also is enthusiasm for new service offerings, as Tuesday afternoon's kick-off session demonstrated. "We are very excited about the Digeo/Moxi box. That product will blow the minds of our customers," said Maggie Belleville, EVP and COO of Charter Communications. "One box does it all—PVR (personal video recorder), high definition, interactive TV, and the interactive guide. It's incredible." Part of the power of the Digeo/Moxi offer is its ability to simplify services for users, by supporting everything in one box. But more simplification work must be done to reach mass deployment of advanced digital services. "The user interface is key to pulling all of the digital products together for our customers," said Nomi Bergman, EVP, strategy and development for Advance Newhouse. "We are far from that, but we have all the building blocks." A growth category by itself, PVRs are now in 5 percent of Advance Newhouse digital subs, Bergman noted. But panelists duly admitted ongoing business (i.e. advertising) challenges and the need to leverage new approaches to ads. Targeting the unbundled Notwithstanding PVRs, Adelphia Chairman and CEO Bill Schleyer said the next killer app would be that famous anti-churn weapon, the "bundled bill." In the Thursday morning general session, Rogers Communications President and CEO Ted Rogers also highlighted the bundle's financial impact. Rogers offered data revealing that a customer who takes three services contributes over six times as much to cash flow as one who takes a single service. (See Table 1.) In addition to video and high-speed data, Rogers offers wireless telephony.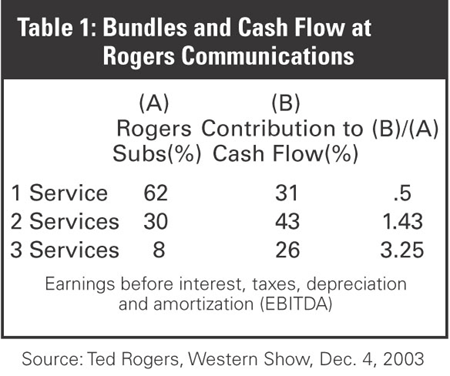 Cable's conspicuous Achilles' heel, Rogers said, is the customer who takes only one service. His fear is that "someone else with a bundle will attract that one." And that "someone" is likely to be a telco with upgraded technology, he added. A bundled future calls for two things: improved back-office and provisioning tools, and more telephony products. A separate Thursday morning Kagan breakfast panel devoted to operations support systems (OSS) addressed the first point, as did the disproportionate number of OSS vendors on the show floor. As for voice itself, the towering Siemens and Sprint booths gave the impression that telephony's day is at hand. Talk at the relevant technical sessions offered more concrete evidence. No more fiddling "Voice may be a dull, old stogy business, but it makes money," said Jay Rolls, vice president of telephone and data engineering for Cox, which has long embraced this future. "We're launched in about half of our markets, and we do 5,000 telephone installs a week. If we were launched nationwide in all of our markets, it would be as red-hot a product as high-speed data," which garners about 10,000 installs a week, Rolls added. Much of the new growth will come from VoIP. "There's a lot of low-hanging fruit in our non-Class 5 markets," Rolls said. In fact, shortly after the show, Cox launched its first commercial VoIP service in Roanoke, Va. Newcomer Vonage also is spurring telephony uptake, both through its own direct sales to consumers, as well as the competitive pressures it exerts on cable operators. "You've heard the expression, 'While Rome was burning, Nero was fiddling,'" said Phil Giordano, vice president of MSO sales for Vonage. He noted that in 2001, Vonage had trials with some major cable companies, but the operators weren't buying. "So we took it directly to consumers." In November 2002, Vonage had 3,000 customers. By the Western show, that had grown to 80,000. Keep it simple…(2) Vonage also has influenced what operators consider when launching VoIP. Arthur Orduna, vice president of strategic initiatives for Advance Newhouse, noted that the Vonage Web site allows subscribers to manage their accounts and add new voice features as desired. "Vonage has made it very simple, and put a lot of control and power in the hands of their subscribers." "Simplicity is the key," concurred Mark Dzuban, vice chairman for Cedar Point Communications. Dzuban added that cable operators wishing to simplify and speed their own telephony service launches could consider partnering with competitive local exchange carriers. "There are very good carrier carriers that provide 911, local number portability, surveillance, etc., that will move us quickly," Dzuban said. Cable operators could later take over those activities in their most profitable markets and continue to outsource less attractive markets, he added. John Vaughan, president and CEO of Syndeo, agreed that partnerships could speed cable telephony launches. "Payback is south of three years, if you look at some of these alternative starting points," he said, adding that whatever the deployment path, a flexible platform is essential. Lock it down As loud as telephony buzzed, it failed to drown out talk of cable's other services. Thomas Eagan, senior analyst with Oppenheimer & Company, called VoIP a "nice-to-have." By contrast, he said competitive pressures make digital video and high-speed data "must-haves." And one of the "must-do's" on the data front is security. Rafael Fonseca, senior director of product and network evolution for Cedar Point, pointed to data from Carnegie Mellon's Computer Emergency Response Team (CERT) showing a steep rise in network attacks, adding that publicly reported numbers may understate the situation by half. (See Table 2.)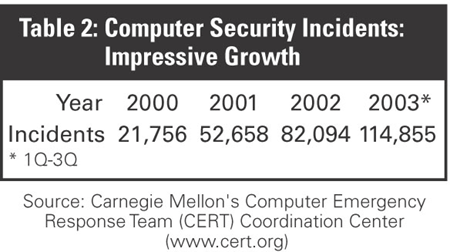 "If we do not secure our DOCSIS networks quickly, we may have to do forklift upgrades," Mark Millet, senior systems architect for Cisco Systems, said. He stressed the importance of using available security measures and recommended that data engineers verify that a packet's service address is logical every time it moves from one zone within a network to another. Improving a network's defenses against denial of service (DOS) attacks and other security breaches redounds to the benefit of any prospective VoIP launch. ("Calls on a neighbor's bill? Customers are not going to like that," Fonseca noted.) But cable's booming high-speed data business is here and now; and the dangers, say these experts, are clear and present. Alaskan tiers Peer-to-peer (P2P) applications continue to generate ambivalent reactions. One operator that appears to have tamed this phenomenon through multiple (i.e. seven) tiers of downstream and upstream data speeds is Alaskan-based GCI. Stephanie Kessler, GCI's senior manager for research and analysis, presented data indicating that GCI's heavy users tend to stay within the limits of their faster data lanes, thus eliminating the wild variable that P2P apps otherwise pose. "Abuse is a harsh term," said Tom Cloonan, CTO of ARRIS's broadband division, regarding what the power users do to the network. "The challenge is to manage the Internet experience for each application." What about the 50 Mbps future that Roberts said was in Comcast's plans? "It's definitely technologically feasible," Cloonan said. "The silicon can do it, (though) we need more software." P-Cube President and CEO Yuval Shahar noted that 30 Mbps is already a done deal in Japan. The real question, he asked, is what would people do with this capacity. "If not peer-to-peer…maybe really good video service." Keep it simple… (3) Whenever IP video matures, here and now cable operators and—by extension—their subscribers need to know how best to transport traffic around their respective networks. As consumer electronics (CE) devices that all seek connectivity continue to proliferate, how do you simplify device configuration, management and control? Sayeed Choudhury, director of market development, digital consumer, for Wind River (whose software now is residing in Motorola's DCT 2500) said that new broadband gateways will feature device discovery protocols and management software to enable cable operators to configure and manage this plethora of retail devices automatically. One of the bright spots in the configuration horizon is IPv6, said Choudhury. Broadband gateways that are IPv6 enabled will be able to "pick up their own IP address, establish local device names and self-configure themselves with other IPv6-enabled devices," he explained. No manual configuration is necessary. CableHome 1.0 protocols would then allow operators to manage these devices, once configured. Telcordia Technologies' Steve Brooks said that to move home networking past the "do-it-yourselfers," operators must offer higher levels of services such as security, parental controls and privacy in a user-friendly way. Doing so, however, will require across-the-board operational improvements. "The ability to see IP devices and manage them will be the key in changing the environment," Brooks said. Urging cable operators to stake their claims in the digital home, Carlton Sparrell, chief systems architect for Ucentric Systems, said the deciding factors would be retail and interoperability. "Simplicity is what will get across the chasm of early adopters to the mainstream." Walking the floor The show floor demonstrated that cable has a large stake in the networked home. Motorola showcased its 900 family of SURFboard cable modem gateways (SBG), with embedded 802.11g wireless technology. And in related news, Motorola joined with Cisco and fabless chip-maker Entropic Communications in forming an alliance to use existing coax to connect TV sets, computers and other CE devices. [That alliance subsequently emerged as the Multimedia over Cable Alliance (MoCA), adding Comcast, EchoStar, Matsushita Electric Industrial (Panasonic), Toshiba and Radio Shack to the original three.] Scientific-Atlanta wowed attendees with its 8000 HD DVR and multi-room DVR demonstration. The dual tuner 8000 HD allows viewers to watch a previously stored movie while simultaneously recording a live show. S-A also spotlighted its WebSTAR DPX2203 embedded media terminal adapter (EMTA). Panasonic proved that you really can get a CableCard into a TV. Its production 47 in. PT-47WXD63 HDTV featured a built-in CableCard and beautifully displayed a live high-definition feed from Adelphia. On the set-top front, it showed its Motorola-compliant PCD-3000, which Panasonic expects to ship this quarter. Toshiba, which also hosted a boisterous "Touchdown Party" at the ESPN Zone with Texas Instruments on Wednesday night, demonstrated its 802.11g-enabled PCX4500 wireless cable modem gateway at the show. Transport, CableNet As for outside plant, S-A unveiled the E500 class of products to its Prisma IP platform as a way to target the small and medium business (SME) market. Other gear aimed at this market included Nortel's coarse wavelength division multiplexing (CWDM) enclosure; Advent Networks' Ultraband USR 4400 switch router, which delivers dedicated IP services to businesses via coax; and Arc-wave's wireless plant extension system. Additional transport gear on display included an intriguing strand-mounted dense wavelength division multiplexer/ demultiplexer (DWDM) from Confluent Photonics; ARRIS's Ethernet over SONET Atoga line; and OpVista's flexible WDM MetroVista platform. In the cable modem termination system (CMTS) category, Motorola trumpeted wins with Bresnan Communications and Cox (Las Vegas) for its BSR 64000. Meanwhile, in the CableNet pavilion, ADC unveiled the Cuda 3000, a downsized, yet carrier-class CMTS. The size and scope of the CableLabs' sponsored CableNet makes it difficult to summarize, except perhaps to wonder whether there could have been a show without it. As it happens, CableNet's move to the NCTA National Show going forward in May gives the Western Show its living legacy. In any case, the final Western Show CableNet featured plenty of voice and OSS-related technology, as well as evidence that Open Cable Application Platform (OCAP) is nearly ready for prime time. Vidiom Systems (with the clever motto: "Think Inside the Box") had ported a digital navigator running over OCAP onto an S-A Explorer 3250 high-definition set-top. Another CableNet demo had an Advanced Digital Broadcast OCAP-based set-top working with the VOD platform from Concurrent. As far as VOD is concerned, this burgeoning service continues to draw attention to cable: Newcomer Exavio used CableNet to debut its ExVault Fibre Channel (FC) media storage system. Meanwhile, nCUBE trumpeted its success in the both VOD and digital ad insertion markets, the latter of which continues to be an arena for critical industry standards. More Parties Bigband Networks exploited the dual platforms of CableNet and the Catal Restaurant and Uva Bar (Wednesday night cocktails). Its message: the highly versatile broadband media router (BMR) platform now drives the live programming for more than 10 million digital cable subscribers, three times as many as it did the previous year. Sony also helped entertain the troops, using the anniversary of last year's Passage technology debut as an occasion to call the caterers and treat guests to Disney's California Adventure. But whether Comcast is taking Sony for a ride or might actually deploy this enabler of alternative, conditional access (CA) technology in a few markets is a question that one (non-Sony) attendee discreetly raised after taking this breathtaking, if virtual flight across the Golden State. Another open question: what should you do this December if the urge strikes to head to Anaheim and make pitches, gossip, negotiate, launch products, pontificate and otherwise socialize with colleagues. One answer would be to call Spencer Kaitz, and thank him and the California Cable and Telecommunications Association for all the memories. Jonathan Tombes is executive editor and Jennifer Whalen is managing editor of Communications Technology. Email them at [email protected] or [email protected].