Waveform Generator Comes In Three Flavors
The WaveStation series of function/arbitrary waveform generators can generate signals to 50 megahertz. It offers a 3.5-in. display, an intuitive front panel, two output channels on all models and PC waveform-editing software.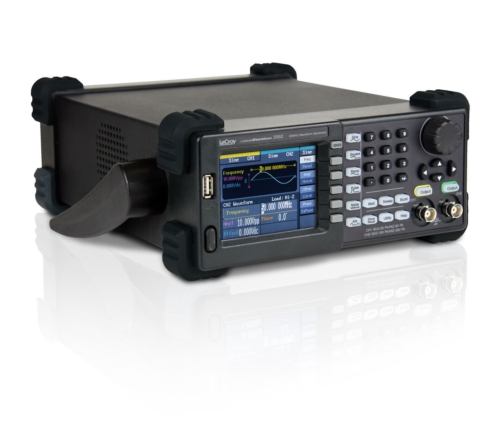 New from N.J.-based LeCroy Corporation, WaveStation models are available with bandwidths of 10 megahertz ($990), 25 megahertz (1,950) and 50 megahertz ($3,450). Each features a 125 MS/s sampling rate, 14-bit resolution and 16 kpts memory per channel.
Not only does the WaveStation provide such basic functions as sine, square, ramp, pulse and noise, but also more than 40 built-in arbitrary waveforms, the company says. The large color display enables users to preview waveform shape along with various parameters like frequency, amplitude, offset and phase.
WaveStation provides a variety of modulation schemes — AM, PM, FM, ASK, PSK, FSK and PWM — that can be controlled using the front panel. It also contains all the necessary I/O connections for synchronization as well as standard USB and GPIB interfaces for remote control and automation.
Accompanying the WaveStation hardware is a PC software utility that runs on an external PC and provides additional waveform-creation capabilities; waveforms can be created, shaped and edited with the software using mathematical operators, digital filters or by placing individual sample points. The software also uses a flexible waveform drawing tool that allows the user to create a freeform waveform sketch on the PC and output from WaveStation.