Upfrontly Speaking – Discovery Highlighting Digital, Scripted & Live Events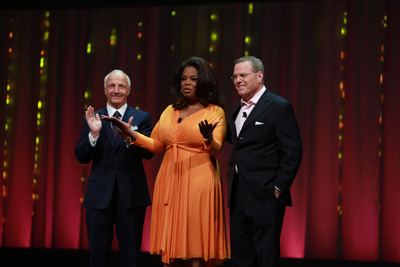 Joe Abruzzese, Ophrah Winfrey & David Zaslav at the Discovery Upfront
Discovery Comm used its upfront to announce that it's partnering with Imagine's Brian Grazer and Ron Howard to launch digital studio New Form. The jv will be helmed by Kathleen Grace and will focus on "high-quality, scripted and unscripted programming for today's digital viewers." At its upfront presentation at NYC's Jazz at Lincoln Center, Howard took the stage and called Discovery an "inspiring partner to challenge us." The venture will "generate great, scripted programming" in short-form online. And New Form will be on the lookout for new talent.
Ad man Joe Abruzzese is excited about the advertising opportunities for digital. "Super fans are spending more time with us than ever," he told the crowd, pointing to Discovery's 4 standalone digital networks, 90-plus YouTube channels and now the new venture. New Form chief creative officer Grace most recently served as head of creative development for the YouTubeSpace LA, a 41K square foot facility dedicated to YouTube content creators and collaboration.
Of course, there was still plenty of talk about the linear side of the business. Not surprisingly, given the success of "Skywire Live with Nik Wallenda," Discovery Net has a few high-profile, live events in the works. Wallenda will attempt to cross the Chicago skyline untethered this fall in "Skyscraper Live with Nik Wallenda." Next month, the net premieres "Everest Jump Live," featuring Joby Ogqyn's wing suit flight off the summit. Then there's something called "Survival" (wt), a 42-day live event in which 8 survivalists will try to make it to the end (the weakest will be extracted). Their struggles will be streamed 24/7 with viewers able to play a role in helping them out as they struggle (who else just got a scary "Hunger Games" vibe?). There will be a mix of pre-recorded and live eps on TV.
On the scripted side, Discovery has "The West," with eps chronicling Jesse James to Buffalo Bill; new series include "Tree People," a community who call the treetops of the Pacific Northwest their home, and bike build competition series "#Bikerlive."
Some of the highlights from the rest of the portfolio: Oprah was at the event to tout OWN and its ratings successes. She introduced the net's very first original scripted movie, "My Name is Love," announcing that Toni Braxton had just signed on to play singer Darlene Love. "We are in the midst of writing the next chapters, literally, of our network," Oprah said. She seemed most excited about upcoming series "Belief," a 7-part docu-series exploring the origins of faith. It's "the reason why I put my name on the channel," she said.
Scripted isn't being left out of Science's slate following the success of movie "The Challenger Disaster." "Challenger was the network's most watched program of 2013. We're building on that success with 'Spies of Los Alamos,'" announced Eileen O'Neill, Group President, Discovery Channel, Science Channel and Velocity. The film is about the creation of America's biggest military secret—the atom bomb (slated for 3Q15).
TLC's new series include "Risking It All," families who move off the grid and "Psychic Matchmaker" (the title says it all). Animal Planet's new slate features its first scripted movie, "Revenge of the Whale," starring Martin Sheen and inspired by Herman Melville's "Moby Dick." Investigation Discovery tapped Roseanne Barr to host "Momsters: When Moms Go Bad," featuring moms who stop at nothing to help their kids, and is teaming with Vanity Fair on a new series.
Newly rebranded American Heroes Channel gm Kevin Bennett called the net "an intersection of military and history programming." Upcoming series include "The Raid," which looks at how outfits such as the US Rangers or the Navy Seals have changed the course of a battle through their strength and courage.
EDITOR'S NOTE: This story originally appeared in CableFAX Daily. Go here to subscribe.