Under the Chrome – Review of Google's Chromecast


Amy Maclean
It's way too early to consider Google's Chromecast a cable-killer or even a cable-toe stubber, but the technology (and the price tag) are worth checking out. At $35, it's an easy and affordable away to stream video to your television. Demand was so high that Google warned of shipping delays and dropped its promo for 3 free months of Netflix streaming the first day of the product's launch.
I ordered my Chromecast a few hours after it was unveiled on July 24. Google said the order should ship by Aug 7. That was conservative, with it actually shipping much earlier and arriving at my home on Wed, July 31. But what about those Netflix streaming codes? I'll get back to that, but first let's talk about Chromecast itself.
As with most devices these days, Chromecast is simply plug and play—no manuals needed. It plugs into the HDMI on your TV and is powered through USB port. If your TV doesn't have a USB slot, it comes with a power adaptor so you can use an electrical outlet. Once plugged in, a message displays on your TV telling you to visit google.com/chromecast/setup. I first attempted to set it up with my laptop, a Lenovo Thinkpad, but had some troubles connecting Chromecast to my WiFi network. I suspect it had something to do with how my network is configured or user error on my part. I abandoned that approach and used my iPhone 5 for set up. An app for iPhone and Android is coming, but you can set Chromecast up through your browser. This time, it worked fine and I was "casting" within a few minutes. With the initial setup complete, I went back to my laptop and installed the Chromecast extension without any hiccups.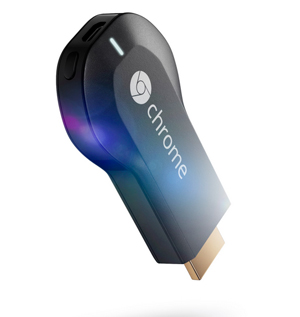 Here's the problem with Chromecast… what to "cast" from the Internet to your TV. Right now, your options are limited to YouTube, Netflix and Google Play—though more apps are coming. You can cast from the Google Chrome browser, but there is a serious lag that just didn't seem worth it to me. YouTube streamed beautifully, though I'm wondering how many YouTube videos I really need to watch (there are a lot of Robin Thicke "Blurred Lines" parodies, y'all. Cut it out). I do think it ups the ante on the significance of copyrighted works on YouTube. My kids are obsessed with the "Muppet Babies" cartoon from the 1980s. I would gladly buy a DVD box set (Do you hear that Margaret Loesch?), but it's not available. We've watched a few around the computer via YouTube. The quality's not great, but when you beam it up to the television set, it is a more enjoyable experience.
Netflix also streamed great, with no latency problems. I had been using a Wii console to stream Netflix. Chromecast trounces the Wii because of navigation. It's so much easier to navigate Netflix via computer on smartphone than to point that Wiimote and hope you click on the right square. Chromecast also scores major points because you can do other things on your device, or even turn it off, while you're casting. I did not spend any time with Google Play because so much of the content carries a price tag, I just don't need it right now.
When I first opened Chromecast, I wondered if I should just leave it plugged in all the time. I wouldn't suggest it. This sucker got burning hot fast, no matter whether the USB was connected via the TV or power adapter.
Back to the Netflix promo… As an existing Netflix sub, that was a huge motivating factor in my purchase as it dropped the price to $11 plus shipping and tax. While the promotion was pulled, it appeared to still be active when I placed my order at 3:40pm ET on opening day. However, there was no sign of the promotion codes with my order or in my email inbox. I really just wanted to send an email or launch an online chat with a Google rep, but I didn't see that option. So, I called the toll-free number and steeled myself for a fight with Google, expecting long wait times and pushback on my demand for the promo. I placed a call at 1:21pm ET. A very friendly rep named Woodell was on the phone with me almost immediately. He said I should have received the codes via email already and they could be arriving later today. Still, he said he would escalate this to "tier two" and a specialist to resolve the issue. I was off the phone by 1:29pm, with an email from Woodell waiting in my inbox, confirming that a specialist was looking at the issue.
Time will tell if I get my free Netflix, but I feel hopeful. That's also how I feel about the future of Chromecast… It's an affordable way to get Netflix and other streaming services to your HDTV.