U.K. Broadband Speeds Up 10 Percent, But…
U.K. consumers are benefiting from a boost to broadband speeds, says a new Ofcom study, with the average UK speed increasing by 10 percent, from 6.2Mbit/s in November/December 2010 to 6.8Mbit/s in May 2011.?
Ofcom's research analyzed 14 packages provided by the 7 largest ISPs in the U.K. market, representing more than 75 percent of residential broadband subscribers. More than 450 million separate performance tests were carried out in 1,767 homes in May.
The good news? Almost half (47 percent) of U.K. residential broadband users are on packages with advertised speeds faster than 10Mbit/s in May 2011, compared with 42 percent in November 2010 and just 8 percent in April 2009.
The bad news? The gap between actual speeds and advertised ('as fast as') speeds also has increased.
According to Ofcom (Great Britain's answer to the Federal Communications Commission), the average advertised speed in May 2011 was 15Mbit/s — 8.2Mbit/s higher than average actual speeds of 6.8Mbit/s. In November/December 2010, the gap was 7.6Mbit/s (the average actual speed was 6.2Mbit/s and the average advertised speed was 13.8Mbit/s).
Superfast broadband services now pass most U.K. homes, 57 percent of which either are in Virgin Media's cabled areas or are served by a superfast enabled telephone exchange. Superfast services are available across Virgin Media's entire network, and typically 80 percent to 90 percent of lines attached to a superfast broadband enabled telephone exchange are currently able to subscribe to a superfast broadband service. And availability continues to grow.
Similar to what the FCC did earlier this year, Ofcom recently launched a broadband map of the U.K. to show performance in different areas and to help government and local authorities decide where money needs to be invested in better broadband, including extending superfast services. The agency's research found that superfast services offer significantly faster speeds than does copper ADSL broadband, with much smaller differences – or no difference – between operator speed claims and actual speeds.
For example, the average download speed on Virgin Media's 30Mbit/s service offered average speeds of 31Mbit/s, and its 50Mbit/s service offered average speeds of 48Mbit/s. BT's Infinity service, which touts speeds of 40Mbit/s, offered average speeds of 34Mbit/s.
Here's the problem: More than 75 percent of U.K. residential broadband connections are delivered via copper ADSL telephone lines; speeds for these consumers depend on the length and quality of the line running from their homes to the local exchange. The closer a consumer lives to the exchange, the better the performance. Ofcom notes the average download speed received for ADSL "as fast as" 20Mbit/s and 24Mbit/s ADSL services was 6.6Mbit/s, and more than a third of customers (37 percent) who subscribe to these packages received average speeds of 4Mbit/s or slower.
Speed Matters: Differences Between U.K. ISPs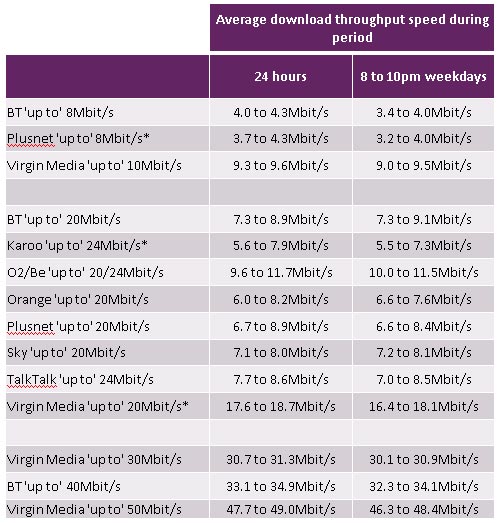 NOTES: (1) The ranges show the average performance of each ISP package presented as a range around the mean – where the range of two operators overlaps, differences in performance between the operators are not statistically different at a 95-percent level of confidence. (2) Karoo is the name of the broadband service offered by KCom to consumers in Kingston-upon-Hull. (3) *Indicates a small sample size – results should be treated with caution.
Although fewer ISPs in the U.K. now advertise their services by speed, Ofcom continues to be concerned that theoretical "as fast as" speeds have the potential to mislead consumers. Earlier this year, Ofcom recommended to CAP and BCAP, the committees that write the advertising codes administered by the Advertising Standards Authority, that a Typical Speeds Range (TSR) should be included in all ISP marketing that capitalizes on the speed of the service.
As such, Ofcom believes the TSR should represent the range of speeds actually achieved by at least half of customers, and where "as fast as" speeds are used in an ad, then the TSR must have at least equal prominence. The theoretical maximum "as fast as" speed claimed by ISPs also must be a speed actually achievable in practice by a critical mass of customers. (CAP and BCAP currently are concluding their review of the use of "as fast as" speeds in broadband advertising and are expected to announce their decision in the fall.)
– Ofcom