Time Warner Cable Media's Carole Hart on Hyper-Targeted Advertising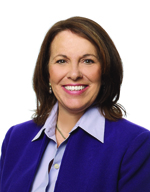 Carole Hart, svp, Enterprise
Sales, Time Warner Cable Media
About a year ago Time Warner Cable Media streamlined its leadership from three regional sales leaders into one position. That post was filled by Carole Hart, who moved from leading the eastern region to svp, Enterprise Sales, Time Warner Cable Media. Here she discusses how the company has leveraged insights across the business to inform local markets, up-and-coming advertising categories and how iTV has enhanced its ability to hyper-target.

How has your role at the company changed over the past year?

It's been very interesting as my role has expanded. A year ago I was just overseeing the east. And while we ran a lot of campaigns and had a lot of different clients, when you look by state, there were some characteristics that were very similar to certain clients. Now that I'm over the entire enterprise, we have so many learnings and so many insights that we can take to clients across the board. As an enterprise, we're running over a million campaigns a year. But it's not only just about the categories. [We're] starting to be able to segment learnings and insights based on the marketing objective. For example, if it's a grand opening, in a lot of cases it doesn't matter if it was an automotive dealership or a mall or a bookstore. We're really starting to leverage those learnings and understand how they're using dayparts, how they're using networks, how they're using the impressions to be able to drive results.

So the type of campaign is increasingly more important?

It's more about what their marketing objective is. Another [objective] could be, they may be trying to change their image. Or they've had bad service, or ownership has changed and they're trying to reestablish themselves in the marketplace. It can also be, you're number one in sales and you want to maintain being number one. Or you're the last. You're the fourth of all the Toyota dealers in a market—how do you grow? We're able to share those success stories and case studies and bring up examples where we have been able to help businesses accomplish what they wanted to accomplish. It starts with the category. But we have richer data to be able to segment in different ways.

Are you seeing any new categories over the past year?

There are certain categories that are growing faster than others. Healthcare… and education has been a big one. Those are not traditional. We have 500 pairs of feet on the street across the enterprise. We're breaking some categories that maybe some of the more traditional media companies have not been able to break, or aren't having the success we are having. It goes back to the hyper-targeting. We have several dentists on air. You don't see a lot of dentists running on broadcast. We can get very specific and go very deep in the healthcare category. Same with the education category. There's a lot of pressure on budgets being cut. For us to go in and say, with this hyper-local, hyper-geographical targeting, you're not wasting your money… We can run an extremely effective campaign for you in the area where 80 or 90% of the people will be visiting your store, buying your goods, buying your services–that's where they're coming from.

How is Time Warner Cable Media using hyper-targeting for campaigns?

Advertisers will not argue with you that in most cases anywhere to 60-90% of their clientele is coming from within a 5-mile radius. That's our sweet spot. In my opinion, automotive dealerships, the tier 3, we are their best media partner. They're not always trying to reach the entire DMA. They have very specific mapping. They know what their area is. That's how they get their cars—it's based on their sales are in that geography. We match up to that and help all of them own their backyard. A large piece of how they make money is on the service side. Who is going to drive 40 miles to have their car serviced? It's full turnkey. You're buying your car there, you're financing your car there and you're getting your car serviced there.

Given TWCM's new structure, how do you apply best practices across the entire business?

If we're doing things 25, 30 different ways, in some cases 45 different ways, we're not leveraging where we're having the most success. A perfect example: McDonald's runs with us in 40 markets. But yet McDonald's is franchise-based. We had a different approach for every one of those. It's about how you balance some sort of standard approach to how we're dealing with customers and still really leveraging the nuances based on the specific needs. And that is a real balancing act and that's what we're doing on a regular basis. As a leader of this organization, I wake up every day thinking, how do I help the sales management and the 500 account executives be better at pulling the information out of the clients? We can talk about hyper-targeting all we want, but if we're not hitting them with the right message, if we're not putting them in the right places to truly be hyper-targeted it will fail… How do we go in and provide them with research and the trending that they may not even know about their own industry?

And it's not just affecting sales, it's affecting all the departments in the company. How do we streamline our operations piece on the backend? How do we make sure we're fulfilling the schedules in the best possible way we can? How are we helping to consolidate the billing piece, now that our portfolio includes so many different products? We've revamped our entire clients solutions team, who are helping and being a part of all the presentations that are going out. We're really leveraging this instead of doing it in a siloed manner.

But are the clients you work with still siloed?

Now that we're expanding our digital portfolio, in many cases there are separate shops—a separate agency that handles the digital and one that's handling the linear. But we're starting to see that turn a little bit. Even the conversations we're having with agencies—they're asking us the questions [such as], Have you seen it be successful with one shop that's handling all pieces of the portfolio? We feel that regardless of all the new media that's out there, the 30-second is still driving that. It's about aggregating eyeballs across all of this. People that are consuming media in different ways could be at different stages of the purchasing cycle. Some of the things that are really resonating for us are being able to put an overlay on a 30-second spot and then be able to telescope to a VOD channel where they could see a more expanded, 5-minute video and really go deeper into it if they're in that major consideration [of making a] purchase. Then, if you're also carrying that over into the online space, we are connecting the dots between all of those.

How has iTV helped your team to provide feedback to clients?

With the overlays, we're sharing that information with clients on a weekly basis. We can [say] the majority of the people interacting with your overlay came from these four or five networks, or these dayparts. That is very valuable information. To me, the iTV and VOD piece really helps us differentiate. Clients are getting smarter. They know how difficult the landscape is. And yes, it's always about efficiency. But it's also about getting the right results. The conversations totally change when you play a true consulting role, [and are] trying to map out how we attack this marketing objective. That's what's been very fun for me.