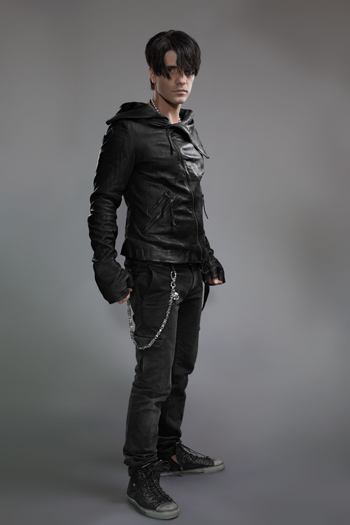 Magician Criss Angel, star of Spike's "Criss Angel Believe"
Esquire Network made some noise when it launched last month as a network for men, but what about that other non-sports men net, Spike? It's still a boy's club, but it continues to move more and more toward life as a general entertainment net, Sharon Levy, evp original series, told us. That even includes female leads in upcoming shows ("Top Chef" runner up Tiffany Derry joins Jon Taffer on "Bar Rescue" spinoff "Hungry Investors" next spring). Here's more from our interview with Levy.
Are you going after women at Spike?
What we're doing very consciously is keeping our core audience of men 18-49, but we're creating shows that also appeal to women. These shows, like "Ink Masters," are skewing 50-50, but still the highest demo for Spike is the core audience. Our shows always begin with, 'Will a guy want to see this?' But we're also thinking about how a woman will respond, which is a bit different than a couple years back.
Are there really a lot of networks aimed at men? There's Spike, but you're moving more toward general entertainment. There's Esquire, Velocity, MavTV.
You're not thinking about the ESPNs of the world. I think there are a lot of channels that skew one way or the other. But as far as where we're going, we're definitely making strides toward general entertainment, and that's reflected in the programming choices we make on our reality side. That's a big reason for us jumping back into the scripted business. So much of general entertainment is scripted, and we're taking that very seriously. From our perspective, we saw a way to forge our own way and broaden out what's already been working.
You recently announced your scripted lineup, which includes "The Whitey Bulger Project," "Hit Men" and a 6-hour limited series based on the life of King Tut. Has Spike had original scripted series before?
Yes. I think the last one was a limited series called "Kill Point" ('07). Our focus since then has been non-scripted originals, but now we're making our way back to dramas by way of scripted, limited series events.
It feels like everyone is jumping back to scripted series all at once. Is the market going to be saturated or are viewers really clamoring for it?
I think viewers are clamoring for good programming, whether it's reality or scripted. They're just clamoring for quality… The world has always been full of scripted and reality co-existing together in harmony. For us, it's a different type of storytelling. People invest in characters. People invest in reality characters. People love Criss Angel, which is why we bought that show. We knew "Criss Angel Believe" would be a very broad appealing show.
All of this investment in originals comes with a big price tag though, right?
We had an opportunity when the UFC left to take a look at how we allocate our money. And when we look at this quarter, which was one of our highest rated since 2009, that's largely in part because we had a terrific run with Bar Rescue and Ink Master and Tattoo Nightmares in originals, as well as a really smart acquisition in "Cops."
Let me go back to Esquire. Does that feel like a competitor to Spike or do you feel you're very different networks?
I totally understand why you would ask that question. I think at this point in time in our business, everyone's a competitor. There's really nothing that keeps me up at night thinking, 'Oh my God. What if they do this or what if they do that?' The stuff that keeps me up at night is if my show doesn't come out the way we had hoped for. You concentrate on making your material the best it can be, so you kind of don't have to worry about everyone else.