The 2012 CT "Best" Award Winners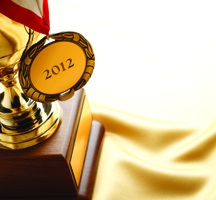 The 2012 "Best First" Award: Infinera (for its DTN-X platform believed to be the world's first 500 gigabit per second [Gb/s] long-haul FlexCoherent super-channels)
Infinera announced first shipments of its DTN-X platform to two customers, and confirmed multiple trials and purchase orders from new and existing customers for the DTN-X platform, which features 500 Gbps long-haul FlexCoherent super-channels. The DTN-X platform features 5 Tbps of optical transport network (OTN) switching capacity, and integrated switching enables service providers to build networks with switching activated wherever it's needed to improve wavelength fill and decrease the number of wavelengths that must be deployed. Infinera said this innovation results in networks with a high network Efficiency Quotient and potentially lowers the total cost of ownership (TCO). The DTN-X also features a GMPLS control plane.
The 2012 "Best Skunkworks" Award: Massillon Cable TV (for its "WatchTVEverywhere" application)
Not only did the Massillon Cable TV team, this year's CT System of the Year build its WatchTVEverywhere platform, to make sure their subscribers had access to such events as this summer's Olympics in London via their PCs, laptops, iPads, iPhones or Android devices, they shared the technology through an agreement with the National Cable Television Cooperative (NCTC) that allowed more than two million people across the country to access the Games. Prior to this initiative, smaller operators found it difficult to pull the pieces together to participate in this early phase of TV Everywhere. Most members were able to launch the TVE solution in a few short weeks with very little initial investment, NCTC says. The 83 cablecos now using the platform have audiences ranging from fewer than a thousand to nearly half a million. A special shout-out goes to Michael Robinson, a computer programmer and network engineer at Massillon Cable TV, who developed the free authentication system.
The 2012 "Best IPv6…Finally" Award: Incognito Software (for its groundbreaking efforts to help the industry make the long-awaited transition from IPv4 to IPv6)
Every global Internet service provider probably has reached the point where it's nearly impossible to sign a new customer without using IPv6. The issue then becomes a matter of gauging what's entailed in preparing for IPv6 to make sure the transition begins in time to avoid a crisis. So far, operators have spent tens of millions of dollars to prepare for this. As a provider of Internet-address-management and broadband-provisioning solutions, Incognito Software is working closely with cable customers that have begun planning for the transition along with those already deploying IPv6 addresses. Incognito is also a key participant in CableLabs' deliberations on the transition to IPv6. The company has formulated procedures, tested solutions and addressed the back-office integration and other challenges associated with address management and provisioning in the IPv6 domain; and its two white papers on the subject of transition are a must-read for any company moving from IPv4 to IPv6.
The 2012 "Best Tech Team" Award: Midcontinent Communications (because its technical team has taken the network-and-services bull by the horns time and time again, jumping in feet first to provide its customers with information and entertainment via broadband Internet, digital and high-def video, and local and long-distance phone service)
According to many cable visionaries across the country, Midcontinent Communications, serving North and South Dakota plus Minnesota and Wisconsin, has taken the lead in connecting its region to the world of information and entertainment, and they agree its crack technical team is responsible for this positioning. Since its start in 1931 in a small movie theater, the company continues to innovate, jumping nimbly into new service frontiers while continuing to offer the more traditional fare to its business and residential subscribers.
The "CTChatter Pick of the Pix" Award (photos posted on CTChatter by members, with winner based on popular vote): Photos for this award were selected from those posted by CTChatter members on the popular CTChatter site connected with Communications Technology. Of the eight user-generated photos selected by CT staff, CTChatter members voted "Corroded Splitter," taken and posted by Darrin Mottler, area headend technician/Western Colorado region for Optimum West, as their 2012 "Pick of the Pix."