The 2011 System of the Year: Buckeye CableSystem – 'The Right People, The Right Comm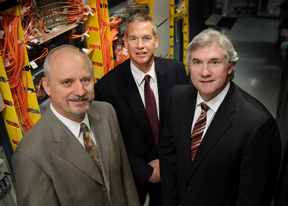 To say that the markets served by Buckeye CableSystem are challenged doesn't quite describe the economic status of much of northwest Ohio and parts of southeast Michigan. "Toledo has been in a recession since 2005, and we aren't out of it yet," says Joe Jensen, executive vice president/CTO at Buckeye CableSystem and executive vice president of parent company Block Communications Inc., in charge of cable and telecommunications operations. "We lost a lot of jobs in the auto industry."
Taking that into account, Buckeye CableSystem, the predominant operator in the area that offers a triple play, has modified its service packages to make them more attractive and affordable for an area undergoing change.
As for Buckeye's own workers who live in the area, there have been no layoffs or cutbacks in the last five years. In fact, headcount has increased by 20, and Jensen says this number will continue to grow.
Besides bolstering its employee roster, Buckeye is focusing on growing its high-speed data services and more voice along with some new commercial accounts; during the last 12 months, it has enhanced its SIP-based services and hosted stations, Jensen notes, adding, "Ethernet has grown by leaps and bounds along with colocation and storage." Moving forward, Buckeye is preparing for the soft launch of wireless service via an agreement with Sprint.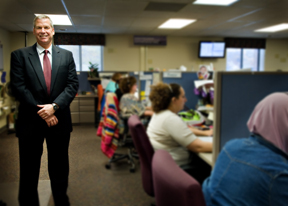 According to Buckeye CableSystem's Brad Mefferd, local customers deal with a local call center staffed with real people. "It pays off," he notes.
"We are going to launch first in the commercial sector under the name Blue Mobile because we are starting out with no storefronts and no inventory," Jensen says. "We also will offer hotspots around Toledo and covering the park where the Mud Hens play."
The operator also has just finished up its Cabel-X conversion (the extraction of old, outdated underground cable from the original cable conduit without the need for digging, thus allowing for the clearing of underground cable from its conduit that, in turn, is used as a sleeve/pipe in which new cables can be inserted). "We did RFoG in a subdivision with no trenching," Jensen says, "and we are monitoring the situation before we implement a full FTTH solution." In addition, Buckeye's whole platform has gone switched digital.
The Competition
Buckeye CableSystem's largest competitor in the area is AT&T U-Verse, which has operated within the carrier's footprint for the past few years, but there hasn't been much of an impact on the incumbent. "We have seen some erosion but we've also seen rollbacks because of our better customer experience and because we're local," Jensen says. "We also have some challenges from satellite and Time Warner Cable, and the pricing is competitive." Despite that, a recent customer survey found that 110 of 118 houses in one development were owned by Buckeye.
Are there any advantages to not being a Tier 1 player? Jensen thinks so: "I spent years working for AT&T and Ameritech. No decision was ever made unless everyone said 'yes.' It was the same pitch over and over. That's not how we operate here. We have an engaged management team, we make decisions and we move forward."
And while Buckeye CableSystem can manage its resources to move fast and to make things happen quickly, Jensen acknowledges there are gaps: "We have to do everything the bigger companies do, but with less money and fewer people."
The Secret Sauce
"We're a big small company with great teamwork and good communications," adds Brad Mefferd, president of Buckeye CableSystem. "Cable is a fast-paced business, and people wear different hats. Our secret sauce is our customer service. We live here, we work here and we are passionate."
From The Chairman: 'We Work For It Every Day'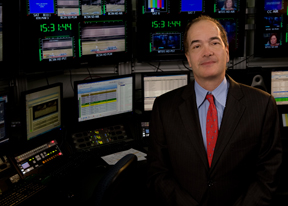 Block Communications Inc. (BCI), parent company of Buckeye CableSystem, is a 107-year-old, privately held and family-owned diversified-media holding company headquartered in Toledo, Ohio. Allan Block, chairman of the board and principal executive officer, and grandson of the company's founder, is a hands-on leader and a visionary, according to some of his employees. And he seems to be a natural when it comes to cable TV.
The company entered the cable arena in 1965, "and we've become more of a cable company than a newspaper company in past years," Block says. "Cable has been a growth and transition business in a good way."
During the next 12 months, Block says Buckeye CableSystem will continue to concentrate on its data speeds and on maintaining its high customer-service standards. The operator hasn't felt the pressure to go all digital yet, but that could happen within the next four years. He continues, "This is a very dynamic business. I believe it's been a good opportunity, but we don't take that for granted. We work for it every day. Human to human, we are Number One."
Block admits it's hard to watch over four different businesses on any given day, "but I know them well enough. We have good people in all of our businesses, and I think we make it work well. What we've done doesn't happen overnight. It's the philosophy and the execution that has taken us decades to achieve. We have the right people and the right commitment. If this was easy, everyone would be doing it."
And this feeling is from the top down. Every year, Buckeye customers receive a letter that includes the home phone number and cellphone number of Buckeye's management – including the chairman of its parent company ( see sidebar) – and saying each one is available to answer any questions or concerns. So far, only a handful of calls have been made, and Mefferd attributes this to a great customer-service department.
Citing another recent survey regarding customer attitudes about its competition, Mefferd says 90 percent of those polled gave Buckeye either a "4" or a "5" (with "5" being the highest rating) when asked about responsiveness.
"We have a local call center, and our customers don't deal with machines. They deal with real people," he adds. "It pays off. We have lost some customers but not at the same paces as do other service providers."
Tech Training
Jensen recently was named to the SCTE board of directors, and he also serves on the SCTE operations committee for Region 7. "The industry is changing, and SCTE does play a significant role in the future. I want to focus on how we can come up with operational things and then communicate them to the members. All our groups are working to be more cost-aligned for innovation, and for technology and policy."
Several other Buckeye staffers are active in SCTE, and the operator is mulling a decision to require all technicians to be SCTE-certified. "We also have a fairly aggressive new-employee training program," he says. "I get the chance to sit down and do a Telephony 101 course with them."
The Future
Buckeye CableSystem has some big plans for 2012, say both Mefferd and Jensen, and the year shapes up to look like this:
• Finishing its evaluation of whole-home solutions, including final tests with a DVR vendor
• Offering additional content on the IP side
• A major upgrade of the network that will result in an eight-fold increase in capacity
• Expanding the SD tier from 8 QAM, and integrating its VOD and switched digital capabilities to one platform that fits both
• Separating DOCSIS 2.0 and DOCSIS 3.0 subscribers
• Adding such hosted services as a unified messaging portal and single-number follow me calling
• Adding Caller ID and billing options onto the TV
• More EBIF applications
• TV Everywhere functionality with iPads
• Continued work with Rovi to develop a better guide
• Increasing the speed of the Buckeye Express offering
"Buckeye is a true operator in every sense of the word," Mefferd concludes. "We care about the community and the people we serve, and we are dedicated to first-class service."
Debra Baker is editor at Communications Technology magazine. Contact her at [email protected]