Susan Adams: A Doer Who Gets Things Done
"I've never really selected a position for the title or money," says Susan Adams, senior vice president/Engineering & Technical Operations at Comcast – Northeast Division in Manchester, N.H. "I pursued career options that were the right fit for my skills and interests and good for the business. I've always wanted to have fun and be in a challenging job, and I want to make a difference."
That, in part, is why Adams was chosen as the 2011 "Women in Technology" award winner. But there is so much more.
With more than 16 years of experience in the cable industry, Adams has held a number of management and technical operations positions with Comcast and its predecessor companies, including Continental Cablevision, MediaOne and AT&T Broadband. As vice president/Internet Protocol Platforms for AT&T Broadband, she led a team of network and systems engineers responsible for designing and building the provisioning systems that provided various services to AT&T Broadband subscribers. Prior to that, Adams was vice president/Regional Operations for the company, managing the national technical team that untangled the RoadRunner network from Time Warner Cable while continuing to support and roll out new high-speed Internet services.
Before joining AT&T Broadband, Adams served as director/Network Operations for MediaOne's RoadRunner, responsible for creating the national support system of network engineers. She later was promoted to vice president/Northeast Regional Operations, where she had end-to-end responsibility for launching new markets and delivering RoadRunner to the New York, New Jersey and New England areas.
Adams, who earned a bachelor's degree from Southern New Hampshire University and a master's of science degree in computer information systems from Bentley University, joined Continental Cablevision in January 1996 to help launch the company's high-speed Internet service in New England. She led the technical team who built and maintained the network infrastructure for the industry's first high-speed Internet market and, subsequently, the largest deployment of high-speed Internet modems.
Cable's Early Lure
"I started my master's program at Bentley, and the first night's class was a computer-networking class," Adams recalls. "This was the early days of the Internet, with dial-up modems if you remember, and the Internet was not a way of life. My professor was teaching on the leading edge of that technology, and I was working managing a data center at an Air Force base at the time. He said that for the Internet to really become ubiquitous, there had to be high-speed connections to peoples' homes. The industry that was ready to do that was cable because there were coax connections into peoples' homes."
While Adams was in graduate school, a recruiter asked her if she was looking for a job, adding that there was an interesting position at Continental Cablevision. "I thought back on that professor and that comment, and I interviewed," Adams says. "I was totally enthralled with the idea of working with cable and being a contributor to building what I thought would be the most exciting product – high-speed Internet."
So she joined Continental Cablevision and has worked with all its iterations, leading to her current position at Comcast. It's always been about the network with Adams, and it's also been about bringing more women into engineering. When she began with the RoadRunner project, she was the lone female on the team.
"At its height, there were about 130 people all up and down the East Coast 24/7," she remembers. "I worked hard to recruit women and I still do, speaking to women in high schools and colleges just to really encourage them to pursue a technical education. There is a huge gap in the United States. Tech generally is on the decline; it's really abysmal."
She continues, "My most successful recruiting was done in New York City for the data center for Time Warner. New York City is my favorite, even though I'm from Boston. The recruiting was fascinating. Every culture was represented, and lots of people were competing."
So that was the beginning. What has changed in the ensuing years from Continental Cablevision to Comcast?
"Cable grew up in a very decentralized, entrepreneurial way. When we first launched high-speed Internet, we basically worked with the vendors to figure out whose cable modem we were going to use, and how it would be configured and what about that regional network?" she says. "How would we connect those headends together? We had fiber optics but we weren't doing IP or Ethernet. So we worked with vendors and figured that out. We basically worked with what was available and what we thought was affordable. And every single region was doing that on its own. Obviously, we all pitched different solutions, so there was no predictability. As time has gone on and competition has become much more aggressive, we've needed to do things in a single way to move really fast."
She adds, "Over the past several years, we have become almost universally standardized. The corporate guys decide what products to launch, what network will support the product and how it will be configured; and we basically execute. So we have gone from being a decentralized system to a centralized system."
Even with standardization, there still are those day-to-day challenges that need to be met. Getting new products to market with a small staff is at the top of Adams' list.
"It comes down to this: To really be competitive, we really need to launch new features and enhancements to our services, like enterprise business service solutions," she notes. "We need to move so fast and build the networks as quickly as possible, making sure that all the operational infrastructure is working as flawlessly as possible in order to ensure that important new business can work. Going fast and doing well at the same time is hard to do with limited resources."
Still, new products need to be rolled out in weeks and months rather that in years because the industry now works in Internet time. Adams and her team have had some help from Comcast corporate to do this: "This company has done a lot of base-lining that really lays down a standards-based architecture for the whole country. It's all IP-based, and it allows us to go a lot more quickly than we once could."
Through her work with Comcast's National Engineering Committee, Adams has helped Comcast build the infrastructure to be future-proof and uniform. She explains, "Comcast corporate really is responsible for designing products and networks that are going to support those products, but it is the role of the division working the region to influence those decisions to make sure that national is making the right choice from a technology perspective, and that we can actually operate that network and meet the customer's needs. We have regular meetings where we talk these things out and give our recommendations as to how to face any challenges."
Adams As Role Model
There is no doubt Adams is one of cable's biggest supporters, and it shows when she talks about her role as mentor to women both inside and outside of Comcast's walls.
"First, I have to say that there is tremendous opportunity for women in cable. The cable industry is very open. Five of my direct reports are women," she says. "The sky is the limit for women, but they need to be encouraged, and not intimidated or discouraged. Women can play at this level. The way to be happy is to work in the job that most engages you professionally."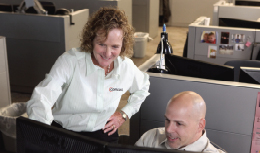 Susan Adams takes a moment to chat with Brian Gillespie, manager at Comcast's Xcellence in Operations Center (XOC) in Chelmsford, Mass.
There is no formal mentoring program at Comcast, but Adams says she sometimes works with just one or several "managees." Co-workers say she has an inclusive management style; she encourages her leadership team to share different perspectives, and she plays devil's advocate. While this is a critically important asset for project success, it also is a way to develop individual leadership and collaborative skills.
Adams also likes to conduct 1:1 sessions along with regular leadership and all-employee meetings to help ensure an engaged and focused workforce. She conducts formal and informal check-ins with her staffers, discussing work and overall life issues. According to Northeast Division President Kevin Casey, "Susan is an inspiring leader because she respects people for what they bring and leverages their strengths to help them reach their full potential."
Out of her senior leadership team, a high percentage is made up of women – the largest number of female executives within Comcast's national engineering organization. Adams continues to support one of her own employees, Liz Graham. A Harvard-educated lawyer, Graham was considering new challenges beyond her role in Government Relations. Adams encouraged her to consider technical opportunities, even though Graham had no technical background. Today, Graham heads three Xcellence in Operations Centers (XOCs) — in Boston, Detroit and Chicago — as vice president. Graham recently was accepted into CTAM University, and she is a Fellow in Women in Cable Telecommunications' (WICT's) Betsy Magness Leadership Institute.
Adams has been instrumental in placing a number of her leaders into the following programs: Women Unlimited TEAM program, Women Unlimited LEAD program, Comcast's Fundamentals of Leadership, Comcast's Executive Leadership Forum and The Partnership, Boston.
The Next Generation
Adams recently began working with the Science, Technology, Engineering and Math (STEM) program for sixth graders in Chelmsford, Mass., and her message has been a simple one: be as tenacious as you can in seeking out new experiences that interest you. She also has spent time with the Science Club for Girls (SCFG), a Mass.-based grassroots volunteer organization that supports more than 440 students, providing opportunities in science and leadership for girls from kindergarten through high school – all free of charge. With 76 percent of its participants being girls of color, SCFG actively serves students who are the most underrepresented in math, science, technology and engineering.
She also works with the YMCA and Boys & Girls Club after-school programs in her hometown of Lawrence, Mass., a diverse urban town with problems like high crime and arson. Adams sees her participation as one small way to encourage a more diverse technical workforce.
"It's more difficult in that environment for kids to pursue a technical education; you need college to do that, and that's my drive for mentoring those girls," she says.
Realizing that college may not be for everyone, Adams adds, "While I encourage getting a higher education, I do tell them that a degree is not a prerequisite to being happy or successful in life. What I tell kids, especially in the fifth, sixth and seventh grades, is that, if you have an affinity for math or science, continue to take the most advanced courses available and to push yourself to really pique that curiosity and to build that foundation to pursue whatever you want moving forward. My theory on education is that no one can ever take that away from you. Make that investment in yourself early, and it will always pay dividends."
WICT And SCTE
Adams' active membership in both WICT and the Society of Cable Telecommunications Engineers (SCTE) has helped move her career forward, and she has made it a point to give back. She is a 2009 Fellow of the Betsy Magness program, and WICT gave her a Career Achievement Award in recognition of her being an outstanding industry member who had a milestone decade and significant impact on the industry.
"WICT is just a phenomenal organization. I had the great fortune to be able to participate in the Betsy Magness program; this really allows us to meet and interact closely with other people in the cable industry," she says. "This leadership program really helps you in how to interact with others and to better understand yourself. On a day-to-day basis, I've been able to speak at the local WICT chapter, and I also do the same with SCTE. It gives me the chance to meet with others at all levels, and there even are a lot of men who participate in WICT. This gives me a perspective that I wouldn't have otherwise."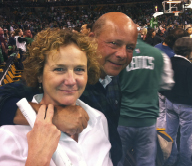 Adams and husband Dave take in the Boston Celtics playoff game earlier this year.
Regarding SCTE, Adams says her participation gives her a chance to get out in the field and to interact with all kinds of engineers in all aspects. She also lauds that group's recently announced SCTE-Tuck Executive Leadership Program at Dartmouth College.
"It's creating what I think is a great leadership program," she says. "Betsy Magness is a great program, but it's only for women. This really rich program at Dartmouth will create technical leaders for the industry. SCTE is re-inventing itself to be all it can be for cable."
Away From The Office
According to Adams, she's pretty good at work but she also is pretty good at being able to disconnect.
"I love to cook. I love to garden. I love to entertain. I love dogs. I love bicycling," she says. "My husband and I have a place in Maine that we really enjoy getting away to. It's very remote and very back to nature. And wireless works great there."
Although retirement isn't in the near future, Adams has thought about what to do when she doesn't have to punch a time clock anymore. "I'd like to do more volunteer work, and I'd love to have more time for gardening and for enjoying the outdoors," she muses. "And I love to travel. We love the Bahamas; we go there every spring. And for our big trip last year, we went to Italy."
And there could be a book in her future – a book about Elvis. Adams has been keeping a file of Elvis stories and adds to it as she remembers things.
"I am a dog lover. We had the most interesting dog that we lost last year – a Weimaraner," she says. "Elvis was just the most interesting dog you would want to meet. Very strong personality. I have so many Elvis stories. You couldn't leave anything on the counter. One day, he ate 30 tomatoes; it looked like a massacre."
The Future
While she has been able to spearhead change in her company, in her staff and in girls beginning to ponder their careers, there still are problems in need of solving that swirl around inside Adams' head.
"The thing that keeps me up at night is that I think our country has drifted away from being a highly entrepreneurial culture – that what we are producing and presenting to the world is not at the level I would like to see," she says. "I think we need to focus on being a big contributor to the world economy by being tremendously productive as a country. We are not the way we once were."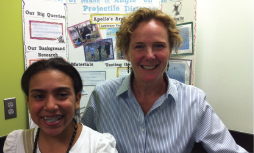 Rosa Reinoso, a member of the Lawrence (Mass.) Boys and Girls Club, participates in Adams' mentoring program — part of her desire to give back to her home town.
She continues, "The reward for innovation is not what it once was. We're losing our focus on that, and we are losing our edge. I tell folks to never give up, to be tenacious. If something didn't work before doesn't mean it won't this time. If you don't do everything you can to create the kind of world you live in, how can you expect others to do it? It's all about responsibility every day."
Debra Baker is editor of Communications Technology magazine. Contact her at [email protected]