Spotlight on the CableFAX 100—NBCU's Bridget Baker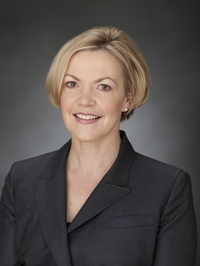 Bridget Baker
Title: President, TV Networks Distribution, NBCU
Years in Cable: 23
Education: BA, Pitzer College; Graduate studies, George Washington University and Exeter College
Why Her? At the close of the acquisition of NBCU by Comcast, Baker was tapped by Comcast to expand distribution oversight to include E!, Style, Golf Channel, Sprout, Versus and Comcast's 12 regional sports networks—adding to her portfolio of cable monsters USA, CNBC, Bravo, SyFy, MSNBC and Oxygen. She's got a full plate—but we know smart and affable Baker can more than handle it.
And The Award Goes To… Baker will be honored in March with the T. Howard Foundation's Champion Award for leadership. This follows her 2010 Pitzer College Distinguished Alumni Award—given only six times in some 50 years—during which a classmate noted, "Bridget helped create an industry that is anything but boring."
Year Ahead: In addition to Baker's new properties, she has adventures in store as chief of distribution for NBC and Telemundo network-owned broadcast stations, broadband, VOD, PPV and set-top box content. And perhaps most noteworthy, she'll oversee execution of the July London Olympic games. With 20-plus networks under her watch and a staff of 100, Baker's career is cooking.
One thing I tell my kids about success in life: You've gotta earn it.
Favorite meal I can also prepare myself: Sunday night family dinners
Favorite restaurant: Double Musky Inn, Girdwood, Alaska
If I invented my own app it would: Supervise homework
Favorite Starbucks order: Grande Americano
Bands I would see live: Coldplay, Lady Gaga
Favorite vacation spot: Rimrock Ranch, Sisters, Ore.
Guilty TV pleasure: A blog: thepioneerwoman.com
When I look at my cable set-top box, I can't help but think: There isn't enough time to watch all the shows recorded there.
Number of companies I've worked for since graduating from college: 2 ?