Survey Sez: Enterprise Ethern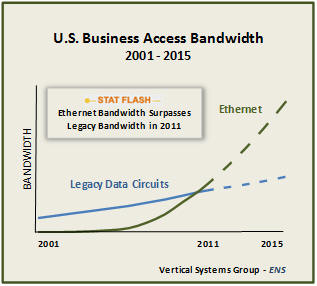 Driven by escalating demand for higher speed network services, the volume of Ethernet bandwidth purchased by U.S. enterprises has surpassed the aggregate bandwidth for legacy circuits, according to new research from Vertical Systems Group.
"Boosted by a 10x surge in the past five years, Ethernet bandwidth has overtaken legacy bandwidth in the U.S. market," comments Erin Dunne, director of research services at Vertical Systems Group. "This milestone fittingly coincides with the 10-year anniversary of the Metro Ethernet Forum, an organization that has successfully fostered the deployment of carrier-class Ethernet services throughout the world."
The group posits 2011 "marks the tipping point of a surge in the installation of Ethernet connections with access rates ranging up to 10+ Gbps." Four years from now, Ethernet bandwidth is projected to more than double, Vertical adds.