Seal Team Six—The Raid on Osama Bin Laden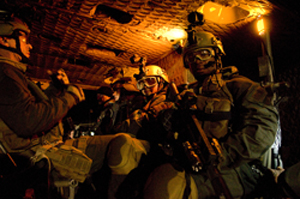 Nat Geo's "Seal Team Six: The Raid on Osama bin Laden"
When the National Geographic Channel upended its senior team a bit more than one year ago, the word was that the new management was going to add Hollywood firepower to the Channel, whose series were critically acclaimed, but lacked the pizzazz to attract consistently high ratings.
For fans of Hollywood and firepower, Nat Geo brings both of them aplenty in "Seal Team Six: The Raid on Osama bin Laden" (Sun, 8p). Seal Team is the Weinstein brothers' film whose cable premiere just days before the presidential election has generated Republican angst, with the GOP claiming the film shows President Obama at one of his finest moments and is Hollywood's subtle attempt to sway voters.
While it might be insensitive of Nat Geo to premiere the film so close to the election, it may be more of a mistake for the network to pair it with "Inside the Afghanistan War" (Mon, 8p). This 2-hour documentary is a fine retrospective of the Afghan conflict, stitched together largely with footage shot by U.S. soldiers, some of it via helmet-mounted cameras. Viewers who watch both Seal Team and Inside Afghanistan will get far more depth from the latter, although there's no competition in the thrills department. Seal Team Six provides more thrills per minute than perhaps all of Nat Geo's programming combined, but they're mostly empty thrills, aided by a drum-heavy booming soundtrack, muscular physiques, a leopard-skin bra and plenty of guns firing rapidly.

On the other hand, Hollywood is a successful business, in part, for its ability to transport movie viewers to a fantasy world. One way Seal Team does this is by providing the thrill of seeing the world the way they seem to do at CIA headquarters in Langley, Virginia. Through much of the film our point of view is that of CIA analysts as they spy on al Qaeda operatives using an army of camera-equipped informants and, of course, satellites, which somehow are able to see into the smallest nooks of Pakistan and Afghanistan, all in real time.
In this world of super high-tech machinery, it makes one wonder why it took years to track down Mr. bin Laden. Indeed, when Vivian Hollis, a female CIA official
,
believes she's located the elusive bin Laden, a 6-foot, 5-inch target, her assertion is more theory than fact.
Hollis is played by Kathleen Robertson, known to fans of Starz' hit series "Boss." In Seal Team Six
,
Robertson does her best to emote, but is saddled with two large problems. First, her role as a young, pretty CIA analyst obsessed with finding bin Laden seems dangerously close to Claire Danes' role as Carrie, a young, pretty CIA analyst obsessed with finding an al Qaeda terrorist on Showtime's hit "Homeland." Second, since Robertson's character is barely developed, she seems even more of a rip-off of Carrie.
The lack of character development puts Robertson in good company with the rest of this relatively strong ensemble. There are some fine actors here, including cable notables like Anson Mount of AMC's "Hell on Wheels," "Six Feet Under" alum Freddy Rodriguez and Cam Gigandet; all of them are saddled with cardboard characters, predictable dialogue, interspersed with military and intelligence-community jargon.
Perhaps the nearly total lack of personality development and relationships between the characters is the result of fast filmmaking. Seal Team Six's lack of character development makes you believe it was made quickly, fast enough to capitalize on a still hot story, which recently has spawned a controversial book, "No Easy Day," and a film to be released in theaters soon, "Zero Dark Thirty."

Another of Seal Team Six's biggest letdowns is its failure to provide many new facts about the raid on the compound in Abbottabad. How was it planned? What was the nature of disagreement inside the Cabinet? How was the timing of the raid determined? Gosh, you'd have to be awfully uninformed to not know how the story ends, so give us some insight along the way. Yes, the kind of insight we're used to getting from Nat Geo programs.
Ah, but here the target is action films fans, who presumably translate into ratings. On that score, Seal Team Six provides plenty of satisfaction for thrill-seeking viewers. Yet one element that left those who liked the film a bit disappointed was the finale, when the compound housing bin Laden is raided. This scene was a miasma of darkness, screams, helicopters and bullets, and all very hard to decipher. Was this director John Stockwell's commentary on the fog of war, bad photography or his way of saluting our armed forces and intelligence services for managing to eliminate bin Laden in the midst of a chaotic situation without a great deal of unintended killings? It's one of many questions unanswered by a film that doesn't seem interested in doing more than providing a thrill-bound re-telling of a well-known story and making Americans feel good about this country's ability to eliminate bin Laden.