SCTE-Tested Powering System Targets Enterprise Users
What's green, has no moving parts and not only can power an enterprise during an outage but can cut its energy budget considerably? Oh, and it can add to a cable operator's bottom line.
Last night, a new partnership between the Society of Cable Telecommunications Engineers (SCTE), Alpha Technologies Inc. and CommScope Inc. was born, aimed at promoting what now is a just a prototype powering system for hardened cable business services but will eventually, the trio says, turn into "environmentally friendly technologies for continued availability during lengthy power interruptions."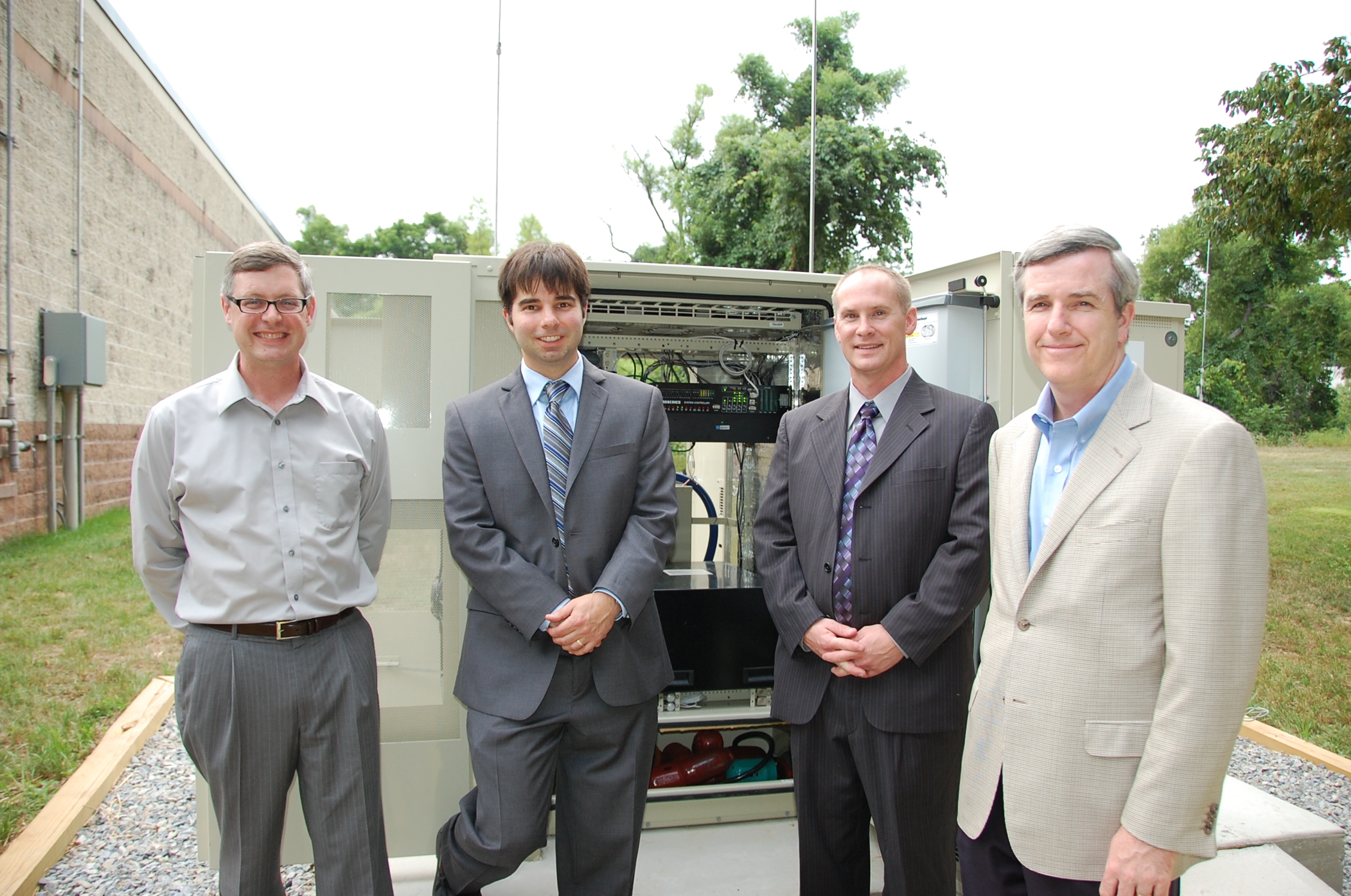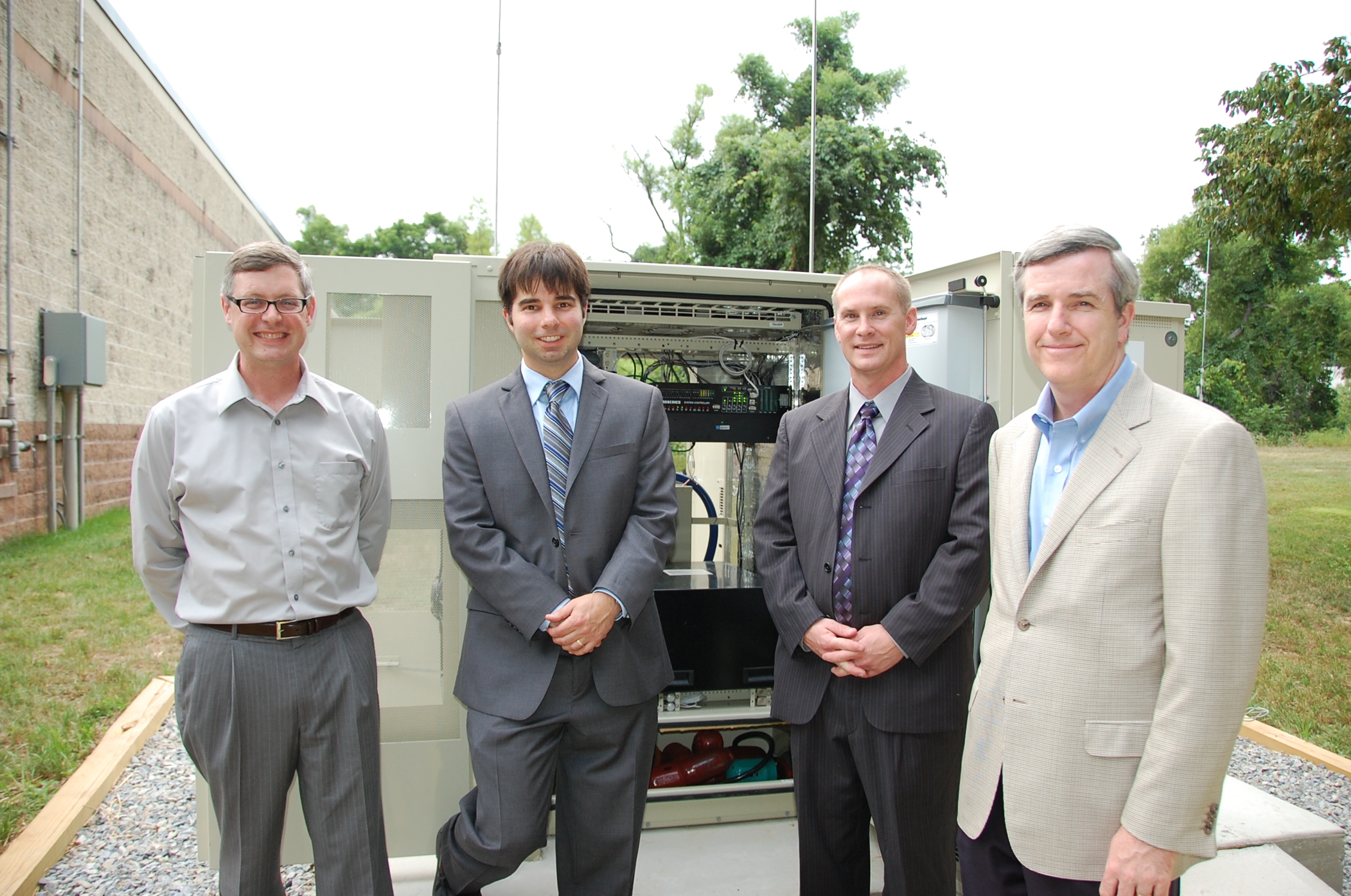 Demonstrating the fuel cell component of SCTE's hardened business services solution last night were (from left) Mark Alrutz, director/worldwide technology sales and services for CommScope; Derek DiGiacomo, senior director/information systems and energy management programs, SCTE; Ben Strunk, construction services project manager, Alpha Technologies; and Jim Hughes, senior vice president/worldwide broadband sales, CommScope. (SCTE photo by Derrick Nguyen.)?
SCTE's headquarters in Pennsylvania has been testing the prototype – an expanded clean-energy solution that integrates solar and fuel-cell technology to provide an average of five to seven days (or more, given hydrogen replenishment) of power for critical systems – since June 29. One of its main responsibilities is to maintain constituent services during adverse circumstances. In fact, the power went out in the offices two weeks ago "and the machines still ran," says Mark Dzuban, SCTE's president/CEO. "Our website can be a source of critical information to technicians nationwide in case of an emergency."
The outcome of this testing, SCTE says, "will result in solutions, standards, skills and certifications needed to chart a course toward such key objectives as optimized power efficiency and zero power unavailability."? Once vetted, the prototype system will be able to meet the power needs of Tier 1 corporations, which will add another layer to cable's ability to offer business services outside of its traditional video domain. "Power is getting better but it is getting more difficult," Dzuban tells CT Reports. "It has to be there to manage critical communications, especially data."
How It Works
Aligned with SCTE's Smart Energy Management Initiative (SEMI) objectives, the 19.7 kilowatt (kW) hybrid power system combines a newly installed CommScope 8 kW hydrogen fuel-cell solution with a 2.8 kW grid interactive solar array and 20-hour runtime storage batteries installed by Alpha. Intelligent controls from Alpha and OutBack Power, an Alpha Technologies company, optimize generation and storage capabilities of all sources when public-utility power is unavailable.
At SCTE, the fuel cell, solar array and batteries are integrated into a grid interactive power system. The Alpha Power System includes both a charge controller and inverter to balance the power delivered to the batteries. When the grid is down, fluctuations in voltage will be measured to maintain the power necessary for SCTE's critical IT needs. When combined with a 11.28 kW array installed by Alpha last year, SCTE is capable of generating an estimated 23,333 kW hours of solar power. (Note: Alpha installed SCTE's 48-panel solar array last year to provide power to the group's IT and communications infrastructure. The roof-mounted photovoltaic system is capable of generating more than 13,300 kW hours annually, roughly the equivalent of 23,866 pounds of CO2 offset annually.)??
Says Dzuban, "The system assesses if there is sun. If there is, the batteries will charge. If not, it can go to the hydrogen system for 64 hours. We have a 20 kW system so, even in low light, we are generating energy." In fact, he says, the system gets more efficient in cold weather. As a result, "We've reduced our energy consumption by half for IT and communications," he adds.
Besides being energy-efficient, the system is "staffing efficient," meaning it takes only one person to keep tabs on it, and even that isn't a full-time job.
What's Next???
"While cable has increased its share of the Tier 2 and Tier 3 business markets, the greatest growth potential exists with Tier 1 business services customers," notes Jim Hughes, senior vice president/broadband sales at CommScope. "Working together with SCTE and Alpha, we're creating deployment models that will help operators deliver the high-performance, high-reliability services that large corporations, particularly those with multiple locations, demand."?
Adds Jim Heidenreich, vice president/product management and customer fulfillment at Alpha Technologies, "Ultimately, we believe that our work with CommScope and SCTE will drive the development of even more advanced power management and power availability solutions that can help the industry capitalize on the business services market."
Concludes Dzuban, "We've been asked to be the catalyst in best practices and technology, and so we will take the lead and lead by example."
Cable-Tec Expo Preview ??
In separate but related news, this year's SCTE Cable-Tec Expo, slated for Nov. 15-17 at the Georgia World Congress Center in Atlanta, will include a beefed-up Green Pavilion and the Next-Generation Video Architecture Pavilion, offering insight into such areas as energy management, power availability and delivery of multiplatform video to devices inside and outside of the home. In addition, a pre-conference Capacity Management Symposium and selected Cable-Tec Expo workshops will be held Nov. 14.
"With the rapid pace of change in cable technology, the educational components of SCTE Cable-Tec Expo are becoming more important than ever," says Terry Cordova, chairman of the program committee for Cable-Tec Expo and CTO of Suddenlink Communications. "Our Green and Next-Generation Video Architecture Pavilions this year will offer an unparalleled opportunity for us to expand the knowledge bases of the thousands of technologists, engineers and operations professionals who will attend Expo this year."
Now in its third year, the Green Pavilion will include power availability (including disaster preparedness, network availability and business-services availability) as well as such energy management topics as alternative and renewable powering, backup powering, power efficiency, power reduction, recycling and recovery, and travel reduction.
The Next-Generation Video Architecture Pavilion creates an opportunity for Expo attendees to see what's behind a content distribution network (CDN), including ingestion of content; transcoding/transrating of content; distribution of content across a transport network or national backbone; and access to and entitlement of content, both inside and outside the home, whether on a "smart device" or a home gateway.
– Debra Baker?