SCTE's Mark Dzuban Recognized for Service in Korea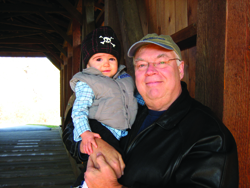 For many years, soldiers stationed in combat zones in Korea after the war's 1953 armistice were not recognized for their service. SCTE's pres and CEO, Mark Dzuban was one of them. But thanks to a recent tip from Steve Mace, Director, Systems Technology at NCTA, last month the SCTE chief got his due.
According to Dzuban, this past April Mace was rifling through government documents when he came upon the Defense Department's announcement of the creation of the Korean Defense Service Medal, awarded to members of the armed forces who served in the Republic of Korea after 1954. The law had been created in 2004, but Dzuban wasn't aware of its issue until Mace thought to send an email.
"I was very grateful, because as a 18-, 19-year-old, that was no Boy Scout camp. There was still a combat zone when I was there, but there is very little knowledge about it and no recognition for the soldiers who fought there from 1954 forward until that campaign medal was awarded."
Mace and Dzuban first got to talking about their service while collaborating on the NCTA's energy efficiency projects. Dzuban had served from 1966-67 (Mace had served in the 1980s) and called Korea "the forgotten war." Both were amazed that no one seemed to be aware of the region's continued hostility.
Dzuban's time overseas certainly felt like a war zone, even if it hadn't been recognized as such. Working for Eighth Army HQ, he was privy to combat reports. "We had 1,200 dead and killed—multiply that by 10 as far as wounded," he said. "I got out of the army at 20, in the combat zone for 16, 17 months. I just felt like, I may be 20 years old, but I felt like I was an old man in retirement."
A few weeks after filing his DD-214 to update his military service record, Dzuban received not 1, but 3 medals: a Korean Defense Service Medal, a National Defense Medal and a Good Conduct Medal. They arrived in a small, military blue container. "They came out of the blue. There was no note," he said. The return address was just a Post Office box. "It was almost out of heaven. So the recognition was a double whammy."
With this newfound recognition, Dzuban has access to VA benefits and can join the VFW and the Korean War Veterans Association—honors previously inaccessible to him. But he's not stopping there. He's working with Mace to launch Time Warner Cable's Vet Net initiative, a veterans interest group, globally through SCTE in the coming months. "There's a lot of misinformation—or no information—about veterans' benefits," he said. How to get a VA mortgage and apply for veterans support to treat combat wounds and fatigue should be readily accessible, he believes.
Dzuban's also disappointed about the unemployment rate of female veterans, which is twice as high as female civilians, according to the Institute for Veterans and Military Families at Syracuse University. "These are first-class [women] and well-educated in science in technology. We want to open those doors for them where we can," he said. The first event will be a career fair held locally at the Coatesville VA Medical Center. Vet Net will most likely be presented at the SCTE Cable-Tec EXPO in October, he said, but an official announcement will come in late July.
On whether others should seek out medals for their service Dzuban said it's a personal choice. "
Recognition is a funny thing. You wish it would occur, but there's a certain amount of humility about going after it." But it's certainly appropriate, he added, "if you feel you were missing something that was very influential and critical in your life and left life-long memories."
More importantly, serving in the military has influenced his career and his behavior generally. "Being in combat logistics, I have very high visibility, [I'm] very action-oriented." Another military guy in cable, Comcast pres Neil Smit, has pointed to the military's influence on his leadership tactics, most recently at the CTAMU luncheon at this The Cable Show in Boston. Dzuban was there as well. "If you look at the pace we keep… We're allowed to make mistakes, that's how you move faster. And commitment. We don't like to lose. There is no such thing as 2nd, though it occurs in life, but you strive for 1st. That's my MO. I think we pretty much live that creed."
Dzuban will be celebrating Memorial Day at his new home, a barn built in 1784 by a Revolutionary War hero, which he and his wife are now responsible for maintaining. A Colonel under George Washington, the soldier ran a foundry in which cannons and cannon balls for the Colonial Army were built. On Monday, he'll plant a Colonial flag with 13 stars in front of the barn. And since Dzuban's wife is the daughter of a Marine Corp Sergeant Major who fought in most of the WWII battles in the Pacific, they'll be honoring him as well.