Why Wavelength Sales Will Surpass SDH/SONET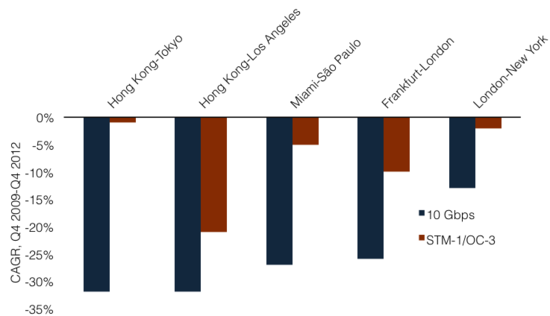 Wavelengths are replacing lower-capacity SDH/SONET circuits as the primary unit of wholesale bandwidth in an increasing number of markets around the world, says Telegeography, and wavelength prices are falling rapidly while price declines for lower-capacity circuits are "moderating." Between 4Q11 and 4Q12, median monthly lease prices for 10 Gbps wavelengths on key global routes (see graphic) fell 37 percent, while prices of 155 Mbps STM-1/OC-3 circuits declined 12 percent. Price levels and rates of change vary widely by region. Despite pricing issues, demand for bandwidth continues to shift toward higher capacities. While 10 Gbps price declines will outpace those of smaller SDH circuits for some time, 40 Gbps and 100 Gbps wavelengths are becoming more widely available, and as volume and cost efficiencies for network operators become more economical, savings will be passed on to bandwidth buyers in the form of steady price declines.
North America The Early Leader For FaaS
According to ABI Research, Femtocell as a Service (FaaS) is a new and upcoming wholesale model for deploying femtocells, targeting mid-to lower-tier operators by providing a hosted femtocell core network. The market's in its initial stages, with enterprise and residential trials ongoing in North America and Europe. As such, the group expects the first commercial FaaS rollouts to happen sometime this year, possibly in the first half. Some 3 million femtocells will be deployed cumulatively by 2018 using FaaS, most of them in North America with close to 300 regional carriers. Four providers are offering FaaS: Colt Telecom and Cloudberry Mobile in Europe, and Cellcom and ClearSky Technologies in North America. Three of the four are using NEC gear.
Is Sprint Low-Balling Its Clearwire Offer (Chapter Three)?
An independent study by Information Age Economics (IAE) indicates that the true value of the wireless spectrum owned by Clearwire Corporation is two or three times higher than the value reflected in the price Sprint has offered to acquire Clearwire. Dish Networks has bid $3.30/share for the spectrum. According to a new filing with the FCC by Crest Financial Limited (which owns 8.3 percent of Clearwire), Sprint's $2.97/share offer represents a value of $0.21 per MHz-POP for Clearwire's spectrum. According to IAE's study, based on comparable recent transactions and broadband market forces, "a more appropriate range for the value of Clearwire's spectrum would be between $0.40 and $0.70 per MHz-POP." Crest's FCC filing also contends that "FCC approval of the proposed merger would delay spectrum deployment and exacerbate 'spectrum crunch' at a time of severe scarcity."