Q&A With iN Demand's Stacie Gray, Part 1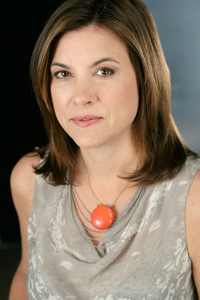 iN Demand's Stacie Gray
Grab some microwave popcorn and slip on your snuggie. iN Demand has launched a marketing campaign around the 2012 awards season to boost awareness of cable's Movies On Demand offerings, in particular Oscar-nominated and winning films. This year they're taking the MOD message to elevators and movie theaters, offering memorable clips from past Academy Awards ceremonies and playing up the industry's ever-narrowing day-and-date windows. According to iN Demand data, 2011 saw 172 day-and-date major studio titles come to cable with DVD release in comparison to 9 titles in 2007—and that's good news for MOD. CableFAX spoke with iN Demand's Chief Creative Officer Stacie Gray about this year's campaign strategy.
What was your ultimate business goal with this award season marketing campaign?
To create campaigns that help to generate high consumer awareness of movies on demand on cable. And to drive buys for titles during the time period of our campaign. We create these campaigns not only to benefit our owners but also our studio partners.
What was the idea behind the creative?
The spots sought to connect and capture the special quality of awards season and the Academy Awards. We weren't necessarily trying to be cute or clever, but [rather] elevate these titles. We came up with a positioning line for Movies on Demand on cable, "Your Host for Award Season," because it's a place where you can watch nominees and past winners.
Relating to the TMOD [CTAM's cooperative Movies On Demand marketing campaign] media, there were some impactful uses of the creative. Part of the media buy through TMOD were 3 ¼ page columns in award season issues of Entertainment Weekly, People magazine…. Those contained a QR code, which is something we wanted to try. Actually it has been tracking very well. In Demand did the creative on that, but the media strategy and the media dollars are part of the TMOD plan.
Since TMOD took on some of the larger paid media costs, like the high-profile print I described as well as some digital placements and TV, In Demand really tries to test the waters on innovative marketing strategies that are additive to media that our owners are doing. So we're not trying to duplicate what everyone's doing, but trying to add those parts that add some sizzle. And get in some places where maybe the traditional media buys will not.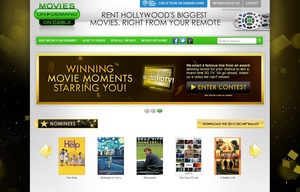 Rentmoviesondemand.com features quizzes and contests
to engage consumers during awards season.
How does this year's campaign compare to last year's? What have you done differently?
This year we have some additional digital tactics. Some out-of-home tactics. We didn't really do out-of-home last year. A couple of unique things In Demand is doing this year: [we're in] movie theaters in 12 markets—that's about 2,.500 movie screens. We have an awards season spot that runs in the 15 minutes leading up to the start of the previews. We're also doing out-of-home through the Captivate Elevator Network in 10 markets. We're trying to catch that person who's on their way home and thinking about what they want to do—and planting in their mind that they can watch a nominated title tonight.
There's a timeliness in awards season—which makes it such a great marketing time. Obviously there's a high focus on movies leading up to the Academy Awards. A lot of media [publications] have special issues—a lot of consumer focus on the subject matter. But also, there's a natural consumer behavior where people feel like they need to start catching up on the movies they haven't seen. We want to be top of mind in that—because we have a lot of those movies available to watch. And many of them aren't in theaters anymore.
How did you work with cable operators during the campaign?
It's a little bit more linked with this particular campaign. Last year we started this awards season initiative for our affiliates. We created TV spots, a full campaign and we did a paid digital media spend on top entertainment sites. We really encouraged all of our affiliates to become involved, with setting up special categories around awards season and promoting it within their properties. Then we decided to make those same materials available to the TMOD members as well, because we felt strongly that awards season is a key opportunity for movies on demand on cable.
This year, everybody was sort of off-and-running without us being the catalyst, per se. Each of our owners, in their own way, fully supports awards season now. With themed categories, etc…. We still support them by doing creative—a look and feel, graphics and a tagline.
What kind of results have you seen?
We don't see the results in real time, so we'll be tracking those results and recapping. And the campaign is still in the marketplace and some portions of the campaign will go up to several weeks to mid-March. Obviously there is another surge of interest after the awards are handed out—then people want to see those films. For instance, "Hugo" won a lot of special effects awards—at least 4 or 5 that were in the [program] itself—and we have Hugo appearing this week. These are things we definitely want to promote, and that's why we continue to campaign for about 2 weeks past.
Ed Note: Here's Part 2 of this interview.