O Roamio, Roamio – TiVo's Next-Gen DVR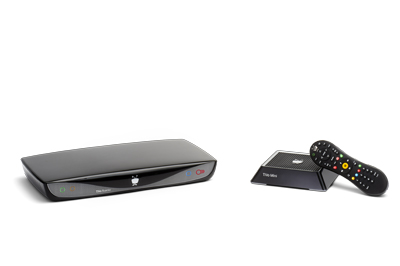 TiVo announced an upgrade to its DVR product today, and they're calling it The Roamio. So what's new about it? It's faster, about 1.5 to 2.5 times as much, and it has more web and over-the-top access, including YouTube, Netflix, Hulu and Amazon.

Though the Roamio is largely a retail product, the company's goal is to create an enhanced cross-platform experience on the retail, domestic operator and international operator side. It is available to US operators, but they'll have to choose whether they want to get on board. Some US ops take the hardware and some don't, according to TiVo, but the company is "hopeful" more will use it.

When it comes to search and discovery, the experience will look familiar to current TiVo owners. You can schedule recordings using a variety of categories, such as movies, sports and kids, via its personalized "What to Watch Now" feature. You can also browse a series of "Collections" curated by TiVo and record the entire thing.

One new aspect to the device is that when you use the "WishList" feature to find shows to record, the software defaults to record automatically. That makes sense now since storage space has increased, with up to 6 tuners available, or 450 hours of HD programming—depending on which Roamio version you choose. The options are TiVo Roamio ($199.99), TiVo Roamio Plus ($399.99) and TiVo Roamio Pro ($599.99).

The DVR supports HTML 5 apps as well. A YouTube app is the first to launch, but more will be coming: In the next 6 months the Roamio will get its own app store, powered by Opera. The Netflix app on the DVR has also gotten a speed boost. The sign in process takes 7-10 seconds now, instead of 25-30 seconds total. Moreover, if you have an iPhone, both the Netflix and YouTube apps can be controlled using your phone app.

Here are a few more improvements to the device:

*If you have a TiVo Mini, which allows you to watch your recording in another room on another device, it will now support Netflix. The second new feature from the Mini is tuner allocation: You can now dedicate one of the Roamio's tuners entirely to the Mini. Cable players currently on board are Suddenlink and RCN, which offer the Mini as part of their "whole home" package.

*The remote control's range is longer now.

*In home access to your recordings is currently available. But later this year, likely in the fall, you'll be able to access your recordings out of home. Since the device is WiFi integrated, MSOs who offer the product to subs will be able to choose whether to opt for the WiFi integration.