Nick's Going to the Ducks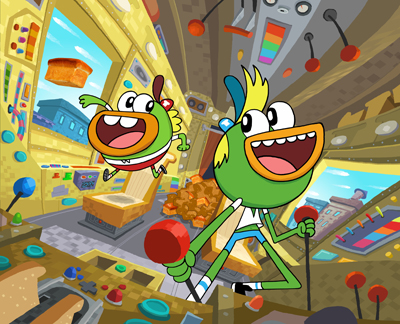 SwaySway and Buhdeuce of Nick's animated series "Breadwinners."
If it doesn't look like a duck and doesn't quack like a duck, it still may be a duck. So is the case with Nickelodeon's newest animated series, "Breadwinners," in which two odd-looking blobs that are actually ducks operate a bread delivery service out of their rocket van (sneak preview Monday at 7:30pm, then it moves to Saturdays at 11am). At its heart, it's a buddy comedy featuring best buddies—um, duckies—SwaySway and Buhdeuce.
"One of the things I love about Breadwinners is that it's overly optimistic. It's these two best friends who are celebrating life and being a kid basically," said Rich Magallanes, Nickelodeon's SVP Current Series Animation. The ducks are in the same boat as SpongeBob, where you're not sure if they're man or child—kid-like, but they can drive and have jobs. "Everything is this big celebration, and that's where that overly optimistic point of view comes from. That's something I think will be really attractive to the audience—the fact it's so positive and such a wild ride," he said.
The show was created by Steve Borst ("Teen Titans Go!" and "MAD") and Gary "Doodles" Di Raffaele (MAD and "Metalocalypse"). It's aimed at boys and girls 6-11. "If we get the gravy on top—above 11 or even adults like SpongeBob—we'd love it," admitted Magallanes, but the focus is the "Big Nick" set.
It's an interesting time in animation, with kids having so many choices not just on TV, but in technology. One of things Nick is doing in trying to appeal to this generation is to rethink shows, and sometimes that means turning to younger creators. "There are a lot of creators now who grew up with our stuff, like 'Ren & Stimpy' or 'Pete and Pete.' Now they're back, those fans, and now they're old enough to make their own shows," Magallanes said. "That's what we feel Gary and Steve are—this new generation of creators."
Nickelodeon's philosophy for finding the next big things for kids can be summed up in the ducks from Breadwinners motto: "No matter the challenge, no matter what, we always deliver and never give up!" Breadwinners Co-creator Di Raffaele was actually discovered from Nick's 2012 Animated Shorts Program. Submissions just opened for the 2014 program, which is the third year for domestic pitches (second year for international submissions). The idea is to identify and develop new animation talent and provide a platform for new kids' content, with at least 10 pitches to be developed into shorts that will appear on air, www.nick .com and the Nick App. There's also the possibility of becoming a long-form series. Last year, Nickelodeon received more than 1000 pitches worldwide with 10 domestic entries and 7 international pitches chosen for development.
"We're on an ongoing mission to create the funniest animated content for this next generation of kids, and find the freshest creative voices from around the world," said Russell Hicks, President, Content Development and Production, Nickelodeon. "The shorts program has already fueled our pipeline with new content and we're very excited to see what comes through our door this year."