NIBs And RAVENs: How To Help Ensure Connectivity, No Matter What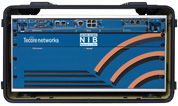 What began as a typical hunting trip for two brothers to an isolated reef in Yakutat Bay in Alaska nearly turned tragic when the anchor of their skiff gave way, and the boat started to drift out to sea. After a failed attempt to get back on course, the brothers thought they were out of options. However, they had a cellphone. They bailed and, as soon as they climbed to the highest location on the reef, they were able to call their families. They were rescued within an hour. What's so unusual about this is that, until a couple of months before the accident, remote Yakutat Bay had no wireless service.
Tecore Networks, a global supplier of 2G, 3G and 4G mobile network infrastructure, worked with Cordova Wireless Communications (CWC), a subsidiary of Cordova Telephone Cooperative, to install its Network in a Box (NIB) System in Yakutat. "CWC is very happy to provide the people of Yakutat with the first wireless service the community has ever had. We knew our service would save lives, for that is the nature of the use of cell phones in rural Alaska," comments Paul Kelly, CWC CEO/GM. And this kind of gear could bring broadband to other unserved or underserved U.S. rural areas.

NIB is a mobile communication core and RAN system designed to serve "hundreds to several thousand subscribers," the Md.-based Tecore says, operating as an extension of an operator's main network but capable of functioning independently in the event of backhaul issues. Its platform can handle 4G HSPA+ and LTE network deployments, and it can continue to transmit locally when connectivity is lost with the rest of the network.

And speaking of network outages, what happens when wireless networks are knocked out for any reason, natural or man-made, thus making communications difficult, if not impossible (case in point: the aftermath of the Boston Marathon bombings)? Tecore has another product: its new RAVEN Platform, a tactical solution it says can deliver macro 3G/4G wireless service fast – in a package small enough to qualify as carry-on luggage on most airlines. This could be a boon to operators experiencing an outage caused by a local or national incident, allowing them to re-connect users quickly as repairs are made.

According to Tecore, each RAVEN provides voice, text, MMS and megabit Internet services as a standalone system or as part of a larger communications network. It also offers multiple backhaul connectivity options to connect locations. The integrated 3G/4G WWAN allows systems to interlink connectivity and coverage at distances as far as six miles apart. Each RAVEN also can be integrated with an external microwave or VSAT to establish remote IP connectivity.

The RAVEN also includes a self-organizing Network (SON) that can select the most appropriate channel for operation based on the surrounding RF environment. "This Dynamic Spectrum Access capability operates as an integrated feature of the platform supporting rapid deployments without local RF expertise," Tecore adds. "As the system operates, the SON capabilities of the platform continuously monitor the surrounding environment. If the channel selected is jammed or interfered with, the system automatically selects and moves to a different channel."

— Tecore Networks (www.tecore.com) will be showing these products in Booth 3634 at CTIA Wireless 2013, May 21-23 in Las Vegas.