MultiStreamer Adds More 'Multi'
DVEO, the San Diego-based broadcast division of Computer Modules Inc., says its real-time, broadcast-quality MultiStreamer streamers now are available in all major video formats and in five different system configurations.
To be featured in the company's booth at next week's NAB Show, DVEO's MultiStreamer encoders create multiple simultaneous high-, medium- and low-bitrate IP streams and sends them to iPads, iPhones, content delivery networks (CDNs) and remote video-capture devices. According to the company, the IP transport streams can be provided with most industry standard protocols, including UDP, RTP or IGMP; and with such wrappers as HLS, RTMP and RTSP. Audio output is AAC, AC-3 pass through or Ogg Vorbis.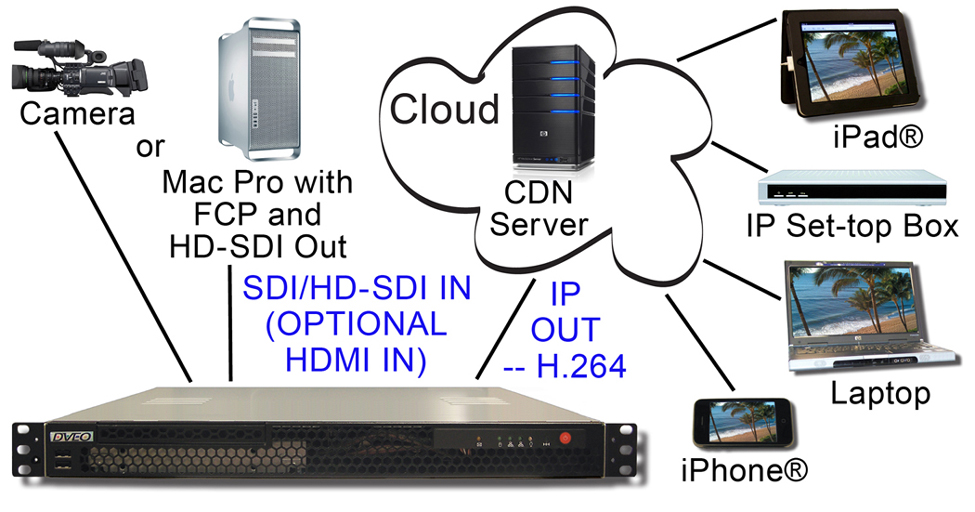 The MultiStreamer product family also supports numerous video formats. All systems include one GigE IP input; and customers may select an additional input format: 8VSB, Analog, DVB-ASI, SDI/HD-SDI, HDMI, DVB-S+S2, DVB-T+T2, QAM, or DVB-C. They can select all of the above inputs in one system (MultiStreamer MF Maxi) or a customized combination of inputs can be created.
"We are proud to announce that we are now shipping the MultiStreamer systems in five different configurations," comments Scott Grizzle, product manager at DVEO. "We offer the 1 RU mini, the 2 RU midi, the 3 RU maxi or the enterprise-class Brutus 4 RU or 1 RU blade systems. Plus, we have a sixth configuration coming soon – the portable compact 'micro' streamer, which is less than 10 inches long."
Supported resolutions include qHD, H.264up, SQVGA, QCIF, QVGA, SIF, VGA, or any custom size up to 1080p. The Linux-based systems feature a Web-based GUI with SNMP support for remote access.
All MultiStreamers have been tested to be compatible with major brands of IP devices, including Amino, Roku, Atlanta DTH, and Apple iPad and iPhone. They also are compatible with "major brands" of CDNs and H.264 decoders. Ordering options include a pre-configured Cisco 4-port Gigabit router, and a real-time store-and-forward (time delay) option for 40+ streams: the DelayServer IP.
Suggested retail pricing: MultiStreamer DIG/IP (mini), $3,795; MultiStreamer DIG/IP/2ch (midi), $5,795; MultiStreamer MF (maxi), $9,995; Individual MultiStreamer IP/IP (Brutus) Module, $12,500; MultiStreamer IP/IP (Brutus) 10-channel system with 10 modules, $119,995.